Elmhurst Bike Accident
Elmhurst Bike Accident Attorney
Bicycles may be great ways to get exercise, and they are certainly good for transportation purposes. However, bicyclists can sustain severe injuries when accidents occur. At Seidman, Margulis & Fairman, LLP, our team is here to help when you need an Elmhurst bicycle accident attorney by your side. If you've been injured due to the actions of another driver, let us get to work securing the compensation you need to get through this.
Choose Seidman, Margulis & Fairman, LLP for Your Bicycle Accident Claim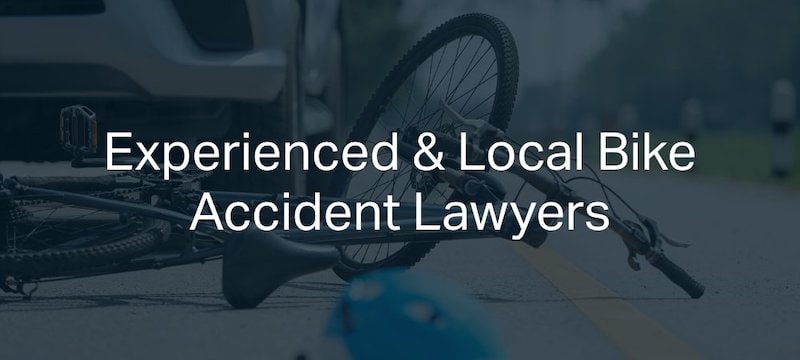 At Seidman, Margulis & Fairman, LLP, our Elmhurst personal injury lawyers offer an unwavering commitment to our clients by listening to their goals and needs and formulating the best case strategy.
We have a willingness to pursue any route of compensation on behalf of bike accident clients, including taking the claim to a jury trial if necessary.
We take Elmhurst bicycle accident cases on a contingency fee basis, which means clients do not owe us a dime until we recover compensation for their losses.
Can a Lawyer Help Your Bike Accident Claim?
Bicycle accident claims can be challenging, particularly when it comes to recovering compensation from aggressive insurance carriers in Elmhurst and throughout Illinois. The reality is that bicyclists can run into roadblocks, but a skilled attorney can work to recover maximum compensation. They will do this by:
Using their resources to investigate the case and gather the evidence needed to prove the other driver's liability.
Ensuring that you are evaluated by a trusted medical professional who can treat your injuries and help assess total losses.
Vigorously negotiate with the insurance carriers to acquire a fair settlement on your behalf.
Fully prepare the case for trial if necessary to recover full compensation.
Compensation Available for a Bike Accident Case
Information presented by the Illinois Department Of Transportation shows that there were 2,180 total bicycle accidents across the state during the latest year of data on file. Unfortunately, these incidents led to 1,995 injury crashes.
Bicycle crash victims in Elmhurst should be able to recover compensation if another driver caused the incident. This includes a range of economic and non-economic damages, including the following:
Coverage of all emergency medical expenses
Compensation for any follow-up hospital or doctor visits
Physical therapy or rehabilitation
Lost wages if a victim cannot work
Pain and suffering damages
Loss of quality of life damages
The total amount of compensation available for Elmhurst bicycle accident victims will vary depending on various factors, including the severity of the injuries, whether or not a person can work, whether there was any shared fault for the incident, and other factors. Your attorney will work with economic and financial experts to help adequately calculate these total losses on your behalf.
Call an Elmhurst Bike Accident Lawyer Today
If you or someone you care about has been injured in a bicycle accident caused by another driver in the Elmhurst area, the team at Seidman, Margulis & Fairman, LLP is standing by to help. We have the resources necessary to handle every aspect of your claim, so let us stand up to the insurance carrier and at-fault party on your behalf. When you need an Elmhurst bike accident attorney, you can contact us for a free consultation of your case by clicking here or calling (312) 781-1977.