Workers' Compensation
Chicago Workers' Compensation Attorney
Work injuries happen in a variety of ways, and they can lead to long recovery times and lost income for victims. If you or a loved one had been injured at work, you should be able to count on workers' compensation insurance for coverage. However, claims are often delayed or denied. At Seidman, Margulis & Fairman, LLP, our Chicago workers' compensation attorneys are here to help ensure you receive the coverage you deserve after a workplace injury.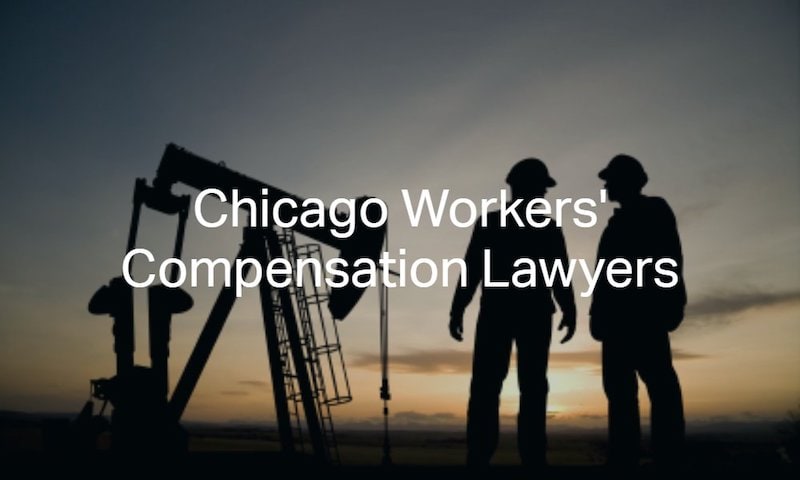 Chicago Workers' Compensation Resources & FAQs Why Choose Our Chicago Workers' Compensation Lawyers?
After experiencing a work injury in Chicago and having trouble securing compensation, turn to a team with extensive experience in these cases. Seidman, Margulis & Fairman, LLP are here to help.
Our Chicago workers' compensation lawyers have more than 100 years of combined legal experience handling personal injury cases in Chicago. This gives us a high level of specialization and unique insights into the process of workers' comp claims.
We have a reputation for success and have secured hundreds of millions of dollars for our clients through favorable settlements or verdicts.
We take Chicago workers' compensation cases on a contingency fee basis, which means that our clients will pay no upfront or out-of-pocket costs for their case. The clients of our law firm only pay legal fees after we secure a favorable settlement or verdict on their behalf.
Why Do You Need An Attorney For A Workers' Comp Case?
Unfortunately, most injured workers do not have the legal resources or experience to pursue compensation if their workers' comp claim is denied or delayed. An Illinois workers' compensation lawyer will be able to:
Obtain all evidence related to the work injury, including video surveillance, accident reports, eyewitness statements, internal employer memos, and more.
Ensure that their client is evaluated by a trusted medical professional who can reassess their work injury.
Handle negotiations with all parties involved, including aggressive workers' comp insurance companies, to obtain a fair settlement.
How Does Workers' Compensation Work In Chicago?
Workers' compensation insurance is supposed to be a "no-fault" system. This means that workers injured in Illinois have the right to this insurance coverage regardless of who caused the workplace injury. As long as the injury occurred while the employee was operating within the scope of their employment duties, they are entitled to receive workers' compensation. This type of coverage is supposed to provide payment for medical expenses as well as a significant portion of lost income if the injured employee cannot work.
How Often Do Work Injuries Occur in Illinois?
According to the US Bureau of Labor Statistics (BLS), there were approximately 2.8 million non-fatal workplace injuries or illnesses during the latest reporting year of data available. Workplace injuries are not uncommon, and the team at Seidman, Margulis & Fairman, LLP regularly helps clients who have sustained the following on-the-job injuries:
Spinal cord injuries
Traumatic brain injuries
Severe lacerations or amputations
Broken or dislocated bones
Sprains and strains
Back and neck injuries
However, our Chicago workers' compensation attorneys also recognize that many workplace injuries are not immediately recognized or visible. Workplace injuries often occur over time due to repeated exposure to certain traumas or hazardous elements. This can include:
Hearing and vision loss
Cumulative trauma injuries
Chronic respiratory illnesses
Certain occupational cancers
Repetitive stress injuries
Workers' comp claims for these injuries are delayed or denied more often and other types of injuries that occur in the workplace.
What Kind Of Compensation Is Available For A Work Injury?
There are various types of compensation victims of workplace injuries could be entitled to. At Seidman, Margulis & Fairman, LLP, our workers' compensation attorneys in Chicago regularly help victims recover the following:
Compensation for any medical bills related to the workplace accident
Recovery of lost wages and compensation benefits for missed days of work
Coverage of any lost future earnings
Potential temporary or permanent disability
Compensation for loss of earning potential
For work injuries that occur due to the negligence of a third party (subcontractors, product manufacturers, property owners, etc.), more compensation may be available through a personal injury claim in addition to the workers' compensation claim.
What Happens If Your Workers' Comp Claim Is Denied?
Unfortunately, an injured worker in Chicago may receive a denial letter for their workers' compensation claim. This is often because an employer or the insurance carrier disputes the facts of the injury. If an injured worker is denied workers' compensation benefits, they can submit a claim to the Illinois Workers' Compensation Commission (IWCC) and request a hearing in front of an arbitrator.
A hearing In front of an arbitrator will be similar to an informal trial in which the arbitrator acts as the judge. In these hearings, the arbitrator will hear evidence presented by both sides and make a decision about whether or not the employer (and the insurance company) must accept the workers' compensation claim. If an arbitrator does not force the employer to accept the claim, the injured worker can appeal the decision in an attempt to overturn the arbitrator's decision.
A worker will need to request an appeal by filing a Petition for Review. This needs to be filed within 30 days of the arbitrator making their decision. This appeal will go to a panel of three commissioners who will review the arbitrator's decision and set a hearing date for the case. Before the hearing, the injured worker will be able to submit an argument in writing to the commissioners. At the hearing, you (or your attorney) will have around five to ten minutes to argue your case. The Commission will issue its decision within 60 days of the hearing.
Our Multi-Million-Dollar Workers Compensation Verdicts
$7.3 million: Burn injury to a worker from a defective product
$6 million: Police officer injured in the line of duty. Believed to be one of the largest, if not the largest, settlement for an Illinois workers' compensation case in history.
$615,000: Orthopedic injuries from a construction accident
$500,000: Work accident
For additional information: Verdicts & Settlements
Contact Our Workers Comp Lawyers in Chicago Today

If you or somebody you love has sustained a workplace injury in Chicago but is struggling to receive compensation, contact an attorney as soon as possible. At Seidman, Margulis & Fairman, LLP, our qualified and experienced team is ready to get to work investigating your injury so we can secure the compensation you deserve.
We firmly believe that every worker has the right coverage after an on-the-job injury. When you need a Chicago workers' compensation attorney, you can contact us for a free consultation of your case by clicking here or calling our law firm at (312) 781-1977.
Frequently Asked Questions: Workers' Compensation in Chicago
What is the eligibility for workers' compensation?
To be eligible for workers' compensation in Illinois, you must be currently employed and have insurance provided by your employer. Employers are required to provide workers' compensation insurance for all employees, though there are some exceptions. The insurance will help cover medical bills and lost wages. Your claim could be denied if your employer does not believe your injury was work related.
How is workers' compensation calculated?
The amount of compensation benefits awarded depends on your weekly wages and how severe your injury is. Your class code is a 4 digit number that provides context about your job. They are determined by the National Council for Compensation Insurance (NCCI) and help determine how much money you can be awarded for your case.
What qualifies as a work-related injury?
A work-related injury is any injury, illness, or condition that results from an accident that occurs in the workplace. It must be reasonably accepted that the injury occurred at work and is a result of your job responsibilities, or your request may be denied. Examples of injuries include sprains and strains, burns, lacerations, eye injuries, and more.
Additional Resources
Can a Pre-Existing Condition Affect My Workers' Compensation Claim?
Can You Receive Workers' Comp for Anxiety or Stress in Illinois?