Elmhurst Personal Injury
Elmhurst Personal injury Lawyer
When a person sustains an injury caused by the actions of another individual or entity, this can lead to significant physical and financial setbacks. At Seidman, Margulis & Fairman, LLP, our team is here to help if you need an Elmhurst personal injury lawyer by your side. We have the resources necessary to fully investigate the cause of your injury, and we have no problem standing up to aggressive insurance carriers to ensure that you recover the compensation needed to get through this.
Why Hire Our Personal Injury Lawyers?
At Seidman, Margulis & Fairman, LLP, we understand that every case we take comes down to results. We focus on obtaining maximum settlements for our clients, and we have no problem taking Elmhurst to personal injury cases all the way to trial.
Our team has a track record of success, and we have recovered significant multimillion-dollar settlements and jury verdicts for clients in Elmhurst, Chicago, and throughout Illinois.
We make sure that every client feels like family. We want to hear your story as well as your goals and needs so we can craft the best strategy for your case moving forward.
How Will a Lawyer Help Your Elmhurst Personal Injury Claim?
Personal injury claims are challenging, particularly for anything more than a relatively minor injury. However, when you work with a trusted and experienced personal injury lawyer, you will have someone on your side who can use their resources to stand up to aggressive insurance carriers and at-fault parties. An attorney will be responsible for:
Gathering any evidence needed to prove liability for your claim
Making sure you are evaluated by medical and economic professionals
Handling all communication with other parties
Negotiating with insurance carriers
Fully preparing the claim for trial in civil court
How Do Personal Injury Cases Arise In Elmhurst?
Personal injury claims arise in a wide variety of ways in Elmhurst and throughout Illinois. This includes, but is certainly not limited to, the following:
Motorcycle accidents
Commercial truck accidents
Rideshare accidents
Pedestrian accidents
Bicycle accidents
Premises liability incidents
Defective product claims
Slip and fall accidents
Medical malpractice
Nursing home abuse and neglect
Workplace accidents
If you have any confusion about whether or not your personal injury claim is valid, please reach out to one of our attorneys so we can discuss your case with you. We offer free consultations, so there is no harm in talking to one of our lawyers who can examine the evidence you have gathered so far and determine the best steps moving forward on your behalf.
Common Types of Personal Injuries The Occur in Elmhurst
Unfortunately, individuals can sustain a wide variety of injuries caused by the actions of others in Elmhurst. In some cases, individuals only sustain relatively minor injuries. However, there are times when individuals sustain catastrophic injuries that require emergency medical care and long-term assistance. Our attorneys regularly help clients in Elmhurst who have sustained:
Traumatic brain injuries
Major head or facial wounds
Spinal cord injuries
Puncture wounds or lacerations
Dislocated or fractured bones
Severe burn injuries
Significant disfigurement or scarring
Road rash injuries
Internal bleeding or internal organ damage
The attorneys at Seidman, Margulis & Fairman, LLP also have a deep understanding of how these incidents and injuries can affect our clients' emotional and psychological well-being. Even though these types of injuries may be "unseen" on the outside, at least compared to the traumatic injuries listed above, they are nonetheless very real. This includes feelings of stress and anxiety, and it is not uncommon for injury victims to experience post-traumatic stress disorder (PTSD). Our lawyers work diligently to recover compensation for every injury that our clients sustain, including the traumatic injuries that are visible as well as these unseen emotional and psychological traumas.
Statute of Limitations on Personal Injury Cases in Illinois
Any person who sustains injury in Elmhurst, Illinois, needs to be aware that they have certain deadlines in place for filing their claim. Overall, the Illinois personal injury statute of limitations is two years from the date an injury occurs. This means that an injury victim has a two-year window with which to file a personal injury lawsuit in civil court against the alleged negligent party. Failing to file a claim within this time frame will result in the case being dismissed and the victim becoming unable to recover any compensation.
However, insurance deadlines happen much quicker than this. If there is an insurance carrier involved, they typically require the claim to be reported within a day or two after the incident. If you do not report a claim promptly to the insurance carriers, then the claims adjusters will likely put up a fight against paying full compensation, and they may even deny the claim altogether.
Compensation Available for a Personal Injury Case
There may be various types of compensation available to injury victims in Elmhurst. At Seidman, Margulis & Fairman, LLP, our team works diligently to recover both "special" and "general" damages on behalf of every client that we help.
Special damages. This refers to the economic losses that individuals sustain as a result of an injury caused by another party. These are quantifiable and can be calculated by gathering bills, receipts, pay stubs, and more. Some of the most common economic damages in these cases include:

Emergency medical expenses
Ongoing follow-up medical care
Prescription medications
Surgical procedures
Physical therapy or rehabilitation
Lost wages
Out-of-pocket expenses
Property damage expenses

General damages. This refers to the non-economic losses that affect an individual after an injury occurs. These are less quantifiable because there are not necessarily any bills or receipts that can adequately account for a person's:

Emotional and psychological trauma caused by the injury
Physical pain and suffering damages
Loss of enjoyment of life damages
Loss of consortium or intimacy for a spouse
There is no set amount of compensation set aside for personal injury victims in Elmhurst. Every case is different, and there are various factors that can influence how much compensation a person receives. Some of these factors include the overall severity of the injuries, the level of property damage, the quantifiable pain and suffering, whether or not an individual can work, whether there was any shared fault, and more.
We strongly encourage you to speak to your personal injury attorney who can give you an idea about how much compensation you can expect to receive if your claim is successful.
10 Tips For Maximum Compensation in Your Elmhurst Personal Injury Case
Seek immediate medical care. It is crucial to seek medical care right after an injury occurs. Delaying treatment will only hurt your overall claim. By seeking immediate treatment, you ensure that you are properly cared for and that you establish a link between the injury and the incident/at-fault party.
Gather evidence. You can begin gathering evidence at the scene of the injury, but only if you do not have to seek prompt medical care. We encourage injury victims to get out their cell phones and take photographs or videos of the surrounding area, making a point to capture footage of the injuries, causes of the injuries, traffic and weather conditions, or any other pertinent information related to the incident. Additionally, if there are any eyewitnesses, their names and contact information need to be written down quickly.
Keep all documentation. In the days and weeks that follow an injury, it is crucial to keep any documentation related to the incident. This includes medical records, incoming medical expenses, property damage estimates, and more. Additionally, it may be possible to gather surveillance camera footage from cameras on nearby homes or businesses.
Beware of reporting deadlines. It is important to keep reporting deadlines in mind. Insurance carriers have very strict reporting deadlines, often within a day or two after an injury occurs. Additionally, the overall personal injury statute of limitations in Illinois is two years from the date an injury occurs. Failing to file a lawsuit within this two-year timeframe will result in the injury victim becoming unable to recover compensation for their losses.
Limit conversations with others. You need to limit any conversation you have with other individuals about the injury incident. This includes limiting your discussion with your insurance carrier and the insurance carrier of the other party. Stick to the basic facts of the case, and do not alter your statement from what you have already told others.
Contact a lawyer. We strongly encourage you to contact an attorney as soon as an injury occurs or right after you seek medical care. An attorney can step in right away and begin the evidence-gathering process. They will be by your side the entire time and make sure that your claim is filed promptly.
Continue medical treatment. You need to continue all medical treatment recommended by your doctor until after they say you have fully recovered or reached what they consider maximum medical improvement. Discontinuing care gives the insurance carriers or at-fault party a reason to limit how much compensation they pay for the settlement or even deny the claim altogether.
Stay off your social media. It can be very tempting to jump to Facebook, Instagram, TikTok, or Twitter to post about your accident, but we strongly encourage you not to do this. Anything you post online can ultimately be found by the other party, and this can be used against you when it comes to your insurance claim or during a personal injury lawsuit.
Do not accept first settlement offers. The first settlement offer from an insurance carrier is likely going to be far below what you should actually receive. You need to let your attorney handle all settlement negotiations. If you take an initial settlement offer before the full extent of your injuries or property damage has been discovered, there will be no way to go back and get more compensation at a later date.
Prepare for the long-term. You need to be prepared for your case to take some time to conclude, particularly if you have sustained a moderate to severe injury. Insurance settlements can take months or even years, and it is not uncommon for personal injury civil lawsuits to not make it to court for years after the incident occurs.
Partial Liability for an Elmhurst Personal Injury Claim
Illinois operates under what is called a "modified comparative negligence" system. This means that individuals can still recover compensation for their injuries, so long as they are less than 50% responsible for the incident (735 ILCS 5/2-1116). Under this system, an individual will receive reduced compensation based on their percentage of fault. For example, if you are involved in a vehicle accident, and the other driver is found to be 80% at fault (making you 20% at fault for the incident), you can collect compensation. If the total amount awarded was $100,000, you would receive $80,000 instead of the full $100,000.
Any person 50% or more responsible for an incident will be unable to recover compensation through An insurance settlement or a personal injury lawsuit.
Free Consultation: Contact Our Personal Injury Lawyers Today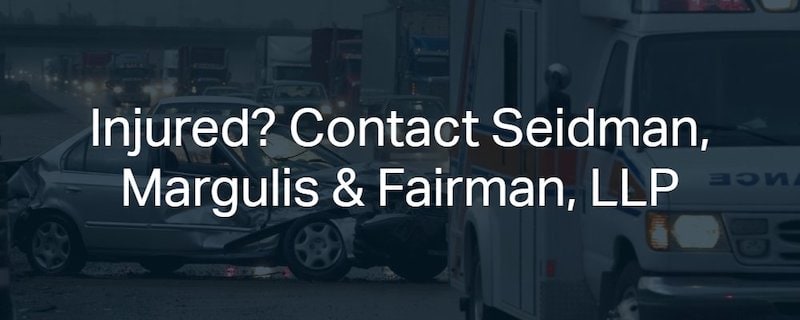 If you or somebody you love has sustained an injury caused by the actions of another individual or entity in the Elmhurst area, reach out to the team at Seidman, Margulis & Fairman, LLP for help as soon as possible. Our team has extensive experience handling complex injury claims throughout Illinois, and we know what it takes to recover the compensation you need to get through this. We refuse to back down from aggressive insurance carriers, and our team has no problem taking your case to a personal injury jury trial if necessary. When you need an Elmhurst personal injury lawyer, you can contact us for a free consultation of your case by clicking here or calling (312) 781-1977.