Oak Park Personal Injury
Oak Park Personal injury Lawyer
Personal injuries can lead to significant physical and financial setbacks. At Seidman, Margulis & Fairman, LLP, our team is standing by to help if you need an Oak Park personal injury lawyer. We have the resources necessary to fully investigate all aspects of your claim and help you recover maximum compensation for your losses. We want to make sure that you are properly cared for every step of the way.
Why Hire Our Oak Park Personal Injury Lawyers?
At Seidman, Margulis & Fairman, LLP, our team has spent nearly four decades helping injury victims in Oak Park and the surrounding areas recover compensation for their losses.
We offer compassionate and experienced assistance to every client that we help, and we are always available to answer questions and concerns about a case.
We use up-to-date methods when it comes to conducting investigations and analyzing the facts of every personal injury claim that we handle.
How Will an Attorney Help Your Claim?
Personal injury claims in Oak Park can become complicated, particularly when victims are left going up against aggressive insurance carriers and at-fault parties on their own. The reality is that you need an advocate by your side who understands personal injury law and civil claim processes. A skilled Oak Park personal injury lawyer will:
Conduct an independent investigation into the incident and gather the evidence needed to prove liability. This can include video or photo surveillance, eyewitness statements, accident reports, and any other evidence that can prove fault.
Enlist assistance from economic and medical experts to fully evaluate your injuries and financial situation to help calculate total expected losses.
Handle all negotiations with aggressive insurance carriers and legal teams to recover maximum compensation on your behalf.
Fully prepare your claim for trial if that is what it takes to ensure you are treated fairly.
How Do Personal Injury Cases Arise In Oak Park?
At Seidman, Margulis & Fairman, LLP, our team has extensive experience helping clients who have sustained injuries in a wide variety of ways throughout Illinois. In Oak Park, some of the most common causes of injuries that we help clients with include the following:
Car accidents
Public transportation accidents
Motorcycle accidents
Pedestrian accidents
Bicycle accidents
Defective product incidents
Premises liability claims
Slip and fall cases
Daycare or playground accidents
Dog bite incidents
Railroad accidents
This is certainly not a complete list of the types of claims that we handle, and we strongly encourage you to contact a member of our team so we can offer a free consultation and help you determine the best steps moving forward for your case.
Common Types of Personal Injuries The Occur in Oak Park
The injuries that occur in these types of incidents range significantly in severity. In some cases, individuals sustain relatively minor injuries, but that is not always what happens. Sometimes, individuals sustain multiple severe injuries that require emergency and long-term medical care. Some of the most common injuries that we help clients with include the following:
Fractured or dislocated bones
Severe lacerations or puncture wounds
Amputations or crush injuries
Spinal cord injuries
Traumatic brain injuries
Open head or facial wounds
Burn injuries
Significant scarring or disfigurement
Road rash
Internal bleeding
These are not the only types of traumatic injuries that we help clients with, and our team also assists individuals who have sustained significant emotional and psychological trauma. It is not uncommon for injury victims to sustain various types of "unseen" but very real injuries, including feelings of anxiety, stress, sleeplessness, and fear. Many personal injury victims in Oak Park also suffer from post-traumatic stress disorder (PTSD). At Seidman, Margulis & Fairman, LLP, our goal is to help clients recover total compensation for their physical injuries as well as their emotional and psychological injuries.
Statute of Limitations on Personal Injury Cases in Illinois
Injury victims in Oak Park need to be aware that there are deadlines in place for filing these claims. First, please understand that insurance carriers have very strict reporting deadlines. If there is an insurance carrier involved in your claim, such as an auto insurance carrier, then you need to report the incident within a day or two after it occurs. Failing to report an incident to an insurance carrier promptly could result in a claim delay or denial.
Additionally, the Illinois personal injury statute of limitations is two years from the date an injury occurs. This means that individuals have a two-year window with which to file a claim against an alleged negligent party. Failing to file a lawsuit within two years will result in the case being dismissed and the victim being unable to recover the compensation they are entitled to.
Compensation Available In A Personal Injury Case
Victims of personal injuries in Oak Park will likely be able to recover various types of compensation if their injuries were caused by the negligent actions of another party. Our team works diligently to recover total losses for individuals, which includes economic and non-economic damages.
Economic damages are also referred to as "special damages," and this includes compensation for the types of calculable losses individuals sustain in these situations. These are considered calculable because we can add up direct bills or receipts an individual receives after their injury occurs. Some of the most common economic damages in Oak Park personal injury claims include:
Emergency medical expenses
Hospital stay costs
Physical therapy or rehabilitation expenses
Prescription medication costs
Medical devices
Lost wages if a victim cannot work
Out-of-pocket expenses victims incur
Property damage expenses
Non-economic damages are also referred to as "general damages." This type of loss includes compensation for more immeasurable types of losses injury victims sustained. These are immeasurable because it is more difficult to calculate non-economic damages because there may not be bills or receipts that can easily be shown to an insurance carrier or personal injury jury for a person's:
Physical pain and suffering damages
Emotional or psychological losses
Loss of enjoyment of life
Loss of consortium for a spouse
How do You Prove Liability in Oak Park For a Personal Injury Claim?
Proving liability for a personal injury claim in Oak Park involves gathering evidence. It is important for an injury victim and their legal team to be able to show that the other party was at fault. Some of the evidence needed in these situations is obtained at the scene of the incident or very soon after the incident occurs. This could include:
Photographs taken at the scene of the crash of causes of the injuries and the injuries themselves
Video surveillance taken from nearby cameras
Police reports or accident reports
Statements from eyewitnesses to the injury
Depending on the situation, there are other types of evidence that can be gathered in the immediate aftermath of an injury. For example, if an accident was caused by a commercial truck driver, it will be necessary to obtain the driver's electronic logging device (ELD) and the truck's electronic control module (ECM). No two personal injury claims are exactly alike, so the evidence gathered for one incident will not look the same as the evidence gathered for another incident.
In the event the evidence does not paint a clear picture of liability, it may be necessary for a personal injury lawyer to bring in accident reconstruction experts to help with the claim. These experts can gather the evidence that has been obtained and use complex computer models to create 3D renderings of what likely occurred and show these models to insurance carriers or a personal injury jury.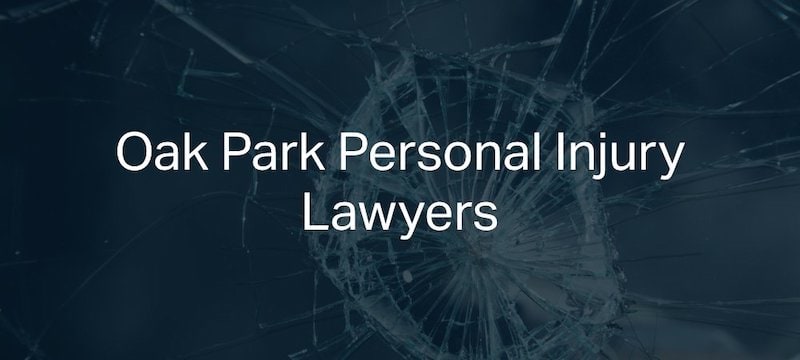 10 Tips For Maximum Compensation in Your Oak Park Personal Injury Case
There are various steps that you can take to help maximize your compensation in an Oak Park personal injury claim.
Seek immediate medical care. You must seek medical care after sustaining an injury, regardless of how much pain you are initially and after the incident occurs. Seeking immediate medical care not only helps ensure your well-being but also helps establish a link between the Oak Park incident and any injuries you sustained.
Gather evidence. If it is possible at the scene of an injury or in the days and weeks that follow, you need to gather as much evidence as possible. This can include taking photographs of the causes of the injury, gathering video surveillance footage, getting the names and contact information of eyewitnesses, gathering accident reports, and more.
Keep all documentation. We encourage you to keep all documentation after an injury occurs. This includes medical records, any bills and receipts, proof of out-of-pocket expenses, and a journal to document the day-to-day recovery and pain and suffering.
Meet reporting deadlines. It is crucial for you to meet all reporting deadlines as your case proceeds forward. This includes filing your insurance claim within a day or two after the incident occurs and being mindful of the two-year Illinois personal injury statute of limitations. Failing to file a claim on time could seriously jeopardize your ability to recover compensation.
Limit conversations with others. We encourage you to limit the conversations you have with others about your injury, including insurance carriers. Insurance claims adjusters know how to get you to say things that could jeopardize your claim. Refer any questions about the injury to your attorney.
Contact an attorney. You need to contact a skilled Oak Park injury lawyer soon after the accident occurs so they can get involved quickly. An attorney will take over the investigation and handle all communications with others on your behalf.
Continue medical care. You must continue all medical care until after your doctor says you have reached maximum medical improvement. If you discontinue care, this could be taken as a sign by the insurance carriers or the at-fault party that you are not as seriously injured as you said.
Stay off social media. It can be tempting to post about your Oak Park injury on Facebook, Instagram, Twitter, or TikTok. We cannot stress enough how bad of an idea this is. Any information you put out there could end up being used against you.
Do not accept first offers. The insurance carriers for the at-fault party will likely offer a quick settlement if it is clear that the other party was at fault. Initial settlement offers are likely far below what they should be, and you need to be careful about rushing into a settlement. Let your attorney explain the pros and cons of early settlement offers to you.
Prepare for the long-term. Personal injury claims can take a while to resolve, particularly if there is a dispute over fault or how much compensation should be paid. We encourage you to talk to your attorney about the time frame for your case and prepare for the long term.
Partial Liability for an Oak Park Personal Injury Claim
If an individual is found to be partially responsible for causing their own injury, they may still be able to recover compensation. In Illinois, this state operates under what is called a "modified comparative negligence" system (735 ILCS 5/2-1116). This means that an individual can recover compensation so long as they are less than 50% responsible for the injuries or damages. Any person 50% or more responsible will be unable to recover compensation for their losses.
If an individual is less than 50% responsible for the incident, they can recover compensation, though the amount will be reduced based on their percentage of fault for the incident.
Paying for a Personal Injury Lawyer in Oak Park
The attorneys at Seidman, Margulis & Fairman, LLP understand how challenging it can be in the aftermath of sustaining an injury, particularly when it comes to finances. That is why we handle Oak Park personal injury claims on a contingency fee basis. This means that our clients will not have to pay any upfront or out-of-pocket costs related to their case. Additionally, our attorneys will not collect legal fees until after we successfully recover the compensation our clients are entitled to. If we do not win a case, our clients will not pay any legal fees.
Free Consultation: Contact Our Personal Injury Lawyers Today

If you or somebody you love has sustained an injury caused by the actions of a negligent party in the Oak Park area, you can count on the team at Seidman, Margulis & Fairman, LLP to help you with your claim. We have extensive experience handling complex injury claims in Illinois, and we have the resources necessary to handle your case. Our goal is to make sure that you recover maximum compensation for your losses. We will not let you get pushed around by insurance carriers or at-fault parties, and we will take your case to trial if we need to. When you need an Oak Park personal injury lawyer, you can contact us for a free consultation of your case by clicking here or calling (312) 781-1977.