Chicago Boat Accident
Chicago Boat Accident Lawyer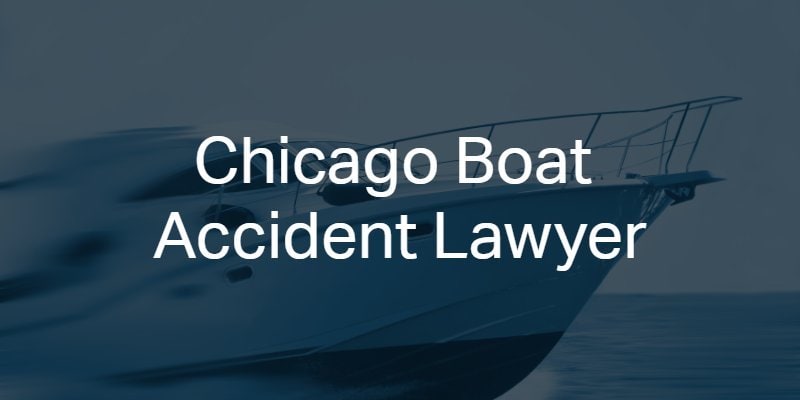 Boating accidents can result in severe injuries for those involved. Unfortunately, boat accidents are more common than most people realize, and they are often caused by the careless or negligent actions of boat owners or operators. At Seidman, Margulis & Fairman, LLP, our dedicated team is here to help if you need a Chicago boat accident lawyer by your side. We have extensive experience handling complex personal injury cases in Chicago and throughout Illinois, and we know what it takes to help clients recover complete compensation for their losses. Let us get to work helping ensure that you are properly cared for today.
Why Choose Seidman, Margulis & Fairman, LLP for This Case?
At Seidman, Margulis & Fairman, LLP, our attorneys are passionate about getting results for those who have been seriously injured by the careless or negligent actions of others.
We have built a reputation for success and have obtained significant settlements and jury verdicts on behalf of our clients throughout Illinois.
We treat every client with the respect and dignity they deserve. Our client-centered approach helps us develop the best path forward for each particular injury case that we take.
Every client will have direct access to their attorney, and they will not be put off on to a paralegal or legal assistant.
Illinois Boating Accident Statistics
When we turn to data available from the Illinois Department of Natural Resources, we can see that there are 216,175 total boats registered in the state of Illinois. During the latest reporting year of data that we have, there were 81 total boating accidents. Out of these incidents, there were 36 injuries and 21 fatalities. Even though these statistics may not seem alarming, let us dig a little bit deeper.
A significant percentage of all boating accidents that occurred resulted in some sort of injury or fatality. In a moment, we will discuss why such a large percentage of boat accidents lead to injuries.
Common Causes of Boating Accidents in Lake Michigan or Chain O'Lakes
Boating activities are incredibly popular along Lake Michigan and Chain O'Lakes. This includes those going out on personal watercraft as well as those partaking in the many recreational boating services available along these lakes. Residents and visitors alike love to go out and fish, jet ski, or just enjoy the water for some time away from the city.
However, there are some common causes of boating accidents along Lake Michigan and Chain O'Lakes. We want to turn information available from the US Coast Guard because they keep track of all boating accidents in the country as well as the causes of these accidents. During the latest reporting year across the country, the top ten known primary contributing factors of boating accidents include the following:
Operator inattention. This simply refers to the operator of the vessel not paying attention to their surroundings and either running into something, ignoring shallow water times, or not noticing incoming wakes.
Improper lookout. This is similar to operator inattention, but there are times when vessels are large enough to need a proper lookout to watch out for hazardous conditions.
Operator inexperience. There are very few laws about who is allowed to operate a boat in Illinois. However, under no circumstances should an inexperienced operator be allowed to pilot a boat when there are passengers on board and when even remotely hazardous conditions are present. This is certainly true for recreational boating services. When a person allows a boat to be used for recreational purposes, there should always be an experienced operator handling the vessel.
Excessive speed. Operating a boat at high speeds is incredibly dangerous for every party involved. This is especially true because most boat occupants are not restrained in any way, which can lead to severe injuries when a crash occurs, and occupants are thrown around inside the vessel or out of the vessel altogether.
Alcohol use. Just like operating a vehicle, it is unsafe to operate a boat while under the influence of alcohol or drugs. Individuals can receive DUI charges for operating a vessel while intoxicated.
Machinery failure. It is crucial to ensure that the boat is regularly inspected and maintained to ensure that it works properly. Boat failure can lead to significant hazards for occupants, including explosion risks.
Navigation rules violation. All boat owners and operators should thoroughly understand navigation rules around Lake Michigan and Chain O'Lakes. There are several boat safety courses hosted by the state of Illinois as well as the US Coast Guard that help operators understand boating navigation rules.
Weather. Hazardous weather is incredibly dangerous for boating activities, particularly along the Great Lakes. Weather conditions can turn rapidly, and boat owners and operators should always be cognizant of upcoming weather forecasts and changing weather conditions as they happen.
Hazardous waters. Waters are often made hazardous by the surrounding weather conditions, but this is not the only way that hazardous waters can occur. If there are objects in the water or if the waterways are crowded, this can also create hazardous conditions that boat owners and operators need to be aware of.
Force of wave/wake. There are typically rules in certain areas about how fast boats can go in an effort to curtail their wake. However, these rules are typically not present on the open water, and boat owners and operators should always be aware of passing boats and their potential wakes.
Chicago Boat Accident Injuries
Boat accident injuries are often severe. The reality is that most boating occupants are not restrained in any way. When an accident occurs, it is not uncommon for boaters to be thrown around inside of the boat, thus sustaining traumatic injuries or for them to be thrown out of the boat into potential drowning scenarios.
At Seidman, Margulis & Fairman, LLP, our dedicated team has extensive experience handling complex boat accident injury cases throughout Illinois. Some of the most common injuries that we help clients within these incidents include the following:
Broken or dislocated bones
Severe sprains or strains
Traumatic brain injuries
Concussions
Open head wounds
Broken teeth
Burn injuries
Spinal cord injuries
Whiplash
Other severe back or neck injury
Severe lacerations
Internal organ damage
Internal bleeding
Drowning or near-drowning
Hypothermia (for those who end up in the water)
In addition to these acute traumatic injuries, we also want to point out that boat accident injury victims are also likely to suffer from some sort of emotional or psychological trauma. This can include feelings of anxiety, anger, fear, depression, sleeplessness, and more. It is also not uncommon for us to discover that boat accident victims in Chicago suffer from post-traumatic stress disorder (PTSD) as a result of the incident.
Who is At Fault in a Boating Accident in Chicago?
There may be various parties who could be at fault in the aftermath of a boating accident. Regardless of whether or not we were talking about a privately owned boat or a recreational vessel, the reality is that boat owners have a duty of care to those who have a right to be on the vessel.
Private boat owners have a duty to ensure that their guests are safe. Recreation boat owners and companies have an enhanced duty of care to ensure the safety of any person using their services. Some of the parties that could be held liable in these situations include the following:
The operator of the boat. It is crucial for any boat operator to ensure that they provide reasonable safety for passengers. Some of the ways that a boat operator could be held liable can include instances where they:

Operating while impaired by drugs or alcohol
Engaged in reckless operations
Disregarded boating laws
Were not properly trained to operate the vessel
Failed to provide proper safety equipment for boat riders

The owner of the boat. The owner of a boat is sometimes not the person in control of the vessel. However, that does not mean that they cannot be held liable in the event an incident occurs. Boat owners have to ensure that their vessels are properly inspected and maintained and in good running order before riders get on board. Additionally, a boat owner should always ensure that anyone operating the boat is trained to do so.
A boat passenger. If there is a case where a boat passenger acted recklessly or prevented the operator of a boat from fulfilling their duty, then the passenger could be held liable in the event an accident occurs.
A boat manufacturer or company. Just like automobiles can become defective, so can boats. In the event a boat company or manufacturer supplied a defective boat or boat part, they could be held liable in the event an accident occurs.
Compensation Available in Chicago Boating Accidents
The various types of compensation available to boat accident victims in Chicago. At Seidman, Margulis & Fairman, LLP, we have a track record of success helping injury victims in Chicago and throughout Illinois recover compensation for the losses they have sustained. This includes the recovery of economic and non-economic damages.
Economic damages refer to the types of compensation available for losses that are relatively calculable in the aftermath of a boating accident. Some of the most common types of economic compensation in these situations include coverage of the following:

Medical bills
Lost income
General household out-of-pocket expenses
Property damage expenses

Non-economic damages refer to the types of compensation that are more challenging to calculate following a boating accident in Chicago. This refers to more immeasurable types of losses that a person sustains after a boat accident occurs. We say immeasurable because there is no easy way to calculate the following types of losses:

Pain and suffering damages
Emotional distress damages
Loss of quality of life damages
Loss of consortium for a spouse
When working to calculate the total compensation that a victim should receive in these cases, an attorney will work with the victim to gather up all the bills and receipts related to the incident. This will help calculate economic expenses and can include medical bills, pay stubs, tax returns, property damage receipts, and more.
When calculating non-economic damages, both the victim and their attorney will typically use a "multiplier method," which means that they will add up all of the economic damages and then multiply that by a set number to reach the total for non-economic damages. For example, if a crash injury victim sustained $100,000 in economic damages, an attorney may use a multiplier of "three" to reach a total of $300,000 for non-economic damages. In total, the attorney would ask for $400,000 in compensation for their client.
How Much Does a Boat Accident Lawyer Cost?
At Seidman, Margulis & Fairman, LLP, our Chicago personal injury lawyers understand that it can be challenging to try to pay for a personal injury attorney in the aftermath of sustaining a serious injury. That is why we take these Chicago boat accident cases on a contingency fee basis. This means that our clients will not be responsible for paying any upfront or out-of-pocket costs related to their case.
Our clients will not pay any legal fees until after we successfully obtain the compensation that they need through a settlement or jury verdict. Additionally, if we do not win the case, then our clients will not pay anything in legal fees.
Call a Chicago Boat Accident Lawyer Today

If you or somebody you care about has been injured in a boat accident caused by the careless or negligent actions of a boat owner or operator, reach out to the team at Seidman, Margulis & Fairman, LLP for help as soon as possible. Our attorneys have extensive experience handling complex injury claims, and we know what it takes to help clients recover total compensation for their losses. We have no problem standing up to aggressive insurance carriers or at-fault parties, and we are completely willing to take cases all the way to trial if necessary. When you need a Chicago boat accident lawyer, you can contact us for a free consultation of your case by clicking here or calling (312) 781-1977.