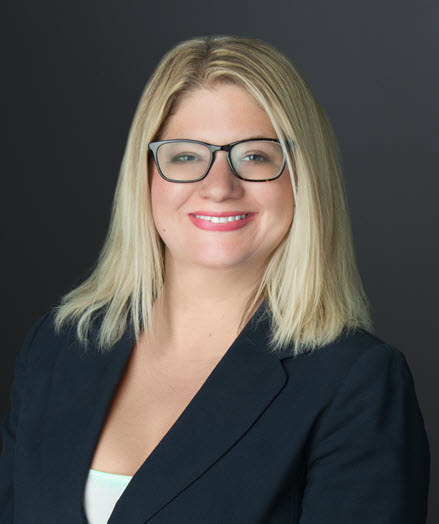 Nancy Shepard
Attorney
Nancy Shepard has spent almost her entire legal career protecting the rights of injured workers before the Illinois Workers' Compensation Commission. While still in law school, she worked at a prominent workers' compensation and labor law firm in Chicago. While there, she discovered a passion in helping people injured on the job obtain the benefits they are entitled.
After graduating from Northwestern Pritzker School of Law in 2004, she went back to her home state of Texas where she clerked for a Federal Judge in the United States District Court for the Southern District of Texas. Upon her completion of this prestigious clerkship, she returned to Chicago and became a personal injury attorney at the same firm she had worked while in law school. She remained there for seven years representing workers injured on the job.
Nancy then transferred to the Law Department of the City of Chicago where she handled workers' compensation claims for several years. This time working for the City of Chicago provided Nancy with the opportunity to see how employers act behind the scenes to defend cases when their employees are injured on the job. This experience provided her with insight that she now uses to her advantage at Seidman Margulis & Fairman, LLP.
Before she went to law school, Nancy graduated from Texas A&M University in College Station, Texas with a Bachelors of Science in Biomedical Science. Nancy puts her degree to work in her legal practice with a deep knowledge of how injuries affect the human body.
Nancy has tried hundreds of cases at the Illinois Workers' Compensation Commission, and has pursued and won numerous appeals at the Commission, Circuit Courts and the Illinois Appellate Courts. Nancy prides herself on providing clients with expert guidance from her initial meeting with a new client continuing through resolution of the case, tirelessly fighting for clients to receive the maximum benefits available under the law.
When she is not fighting for her client before the Commission, Nancy is probably watching college football on Saturdays and the NFL on Sundays. She remains a Houston sports fan but her time in Chicago has led to a love of Chicago Blackhawks hockey as well. She also enjoys cooking meals with her husband.
Client Approach
" I feel every client and case deserves the best I can offer. My goal is to make sure that I provide guidance and support through what many find to be one of the more stressful things they have to go through. I will fight as hard as I can to ensure that my client receive the maximum level of benefits that I can get for them"
Education
J.D., Northwestern University School of Law, Chicago, Illinois, 2004
B.S., Texas A&M University, College Station, Texas
Major: Biomedical Science
Bar Admissions Illinois, 2004
Texas, 2005

Professional & Bar Association Memberships
Chicago Bar Association