Nobody should ever have to worry about their loved one suffering from any kind of abuse inside a nursing home. Unfortunately, there are times when nursing home staff members abuse residents in their facilities in some way. If you discover that your loved one has been the victim of nursing home abuse in Illinois, you should speak to a Chicago nursing home abuse attorney as soon as possible. Here, we want to discuss some of the most common questions nursing home abuse victims and their family members have when trying to move forward and recover compensation for what happened.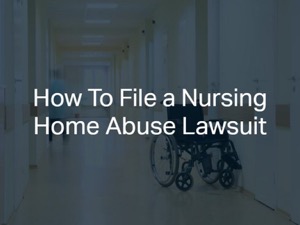 Most Common Types Of Nursing Home Abuse In Illinois
There are various types of abuse that can occur in nursing homes:
Physical abuse. This includes any type of activity meant to inflict pain on a nursing home resident. This can include punching, pushing, shoving, shaking, burning, kicking, pinching, slapping, etc.
Sexual abuse. Any type of sexual activity between a nursing home resident and staff member is considered nursing home abuse. This can include unwanted touching, rape, sodomy, oral copulation, forced nudity, etc.
Emotional and psychological abuse. This type of abuse is defined as the intentional infliction of pain, anguish, or distress on an elderly nursing home resident through both verbal or non-verbal actions. This can include insults, threats, intimidation, harassing behavior, humiliation, etc.
Neglect. This occurs anytime a nursing home staff member fails to provide a resident with their basic necessities, which can include food, water, clothing, hygiene needs, medical care, medications, or other essential items.
Financial abuse. This type of abuse occurs when a nursing home or nursing home staff member improperly or illegally uses a resident's assets.
Recognizing the signs and symptoms of nursing home abuse can be difficult, but family members and friends of nursing home residents should regularly check in with their loved ones. This can include in-person visits (when available and safe) as well as conversations through video chat or on the phone. Many facilities will help facilitate video visitations, particularly while the COVID-19 pandemic is ongoing.
What Is The Statute Of Limitations For Nursing Home Abuse?
As with other types of injury claims, there is a statute of limitations in place for nursing home abuse cases. In Illinois, residents of nursing homes in Illinois who have been abused (or their family members) need to file a lawsuit within two years from the date the injury occurred or within two years from the date a person reasonably should have known they were injured due to nursing home abuse.
There are various exceptions to this general statute of limitations, but it is crucial to ensure that your nursing home abuse case is filed on time. Failing to file the nursing home abuse case within the required statute of limitations will result in the victim being unable to recover compensation for their losses. If you or a family member have been abused in a nursing home, act quickly to ensure that appropriate measures can be taken to hold the abusers accountable for their actions.
What Causes Nursing Home Abuse?
There is no one specific cause of nursing home abuse. Often, nursing home abuse occurs due to a number of issues that can drive nursing home staff members to harm a person under their care. Sometimes, the causes of nursing home abuse occur at an individual level concerning only one staff member. Other times, though, nursing home abuse is allowed to occur due to systemic issues within the nursing home system.
Some of the most common causes of nursing home abuse include the following:
A lack of staff training
Nursing home mismanagement
Understaffing at the facility
Poorly paid staff
While none of these causes of nursing home abuse excuse abhorrent behavior on the part of the staff member, we point them out so that victims and family members know that underlying causes of abuse could lead to liability on the part of the nursing homeowners or operators.
What Are The Most Common Complaints About Nursing Homes?
According to the US Centers for Disease Control and Prevention (CDC), there are approximately 16,000 total nursing homes across the country. As of the latest estimates, around 1.5 million people reside in nursing homes throughout the US, a number that is expected to increase significantly over the coming decade. Unfortunately, there are many common complaints about nursing homes that come from both residents as well as their family members.
Some of the most common complaints among nursing home residents include the following:
Slow response time to assistance calls
Poor quality of food
Staffing shortages
A lack of social interaction
Sleep disturbances
While these complaints may not constitute abuse in and of themselves, you can see how these complaints mirror some of the common causes of nursing home abuse in general. A slow response time to calls for assistance could be an indicator of understaffing or a lack of training at a nursing home. Poor food quality could be an indicator of a lack of proper nutrition. A lack of social interaction could be an indication of emotional and psychological nursing home abuse.
Why Is Nursing Home Care So Bad in Illinois?
Unfortunately, the quality of nursing home care seems to be correlated with a general lack of focus on caring for the less fortunate elderly population. Data pertaining to nursing home abuse is rather scarce because there have not been any large scale studies of how common this type of abuse is. Without a spotlight shining onto abhorrent nursing home behavior, there is little chance that there will be a massive shift in improving nursing home conditions.
One of the most critical aspects of ensuring that nursing home residents are cared for is oversight. This includes oversight at various levels, beginning with family members and friends of the nursing home resident. When there are attentive family members and friends who continually check on their loved ones, this significantly decreases the likelihood that nursing home abuse will go undetected.
On a larger scale, it is crucial that state and federal regulatory agencies continue to improve and maintain high standards associated with nursing home care.