Individuals can sustain hernias in a wide variety of ways, often due to lifting or handling heavy objects. When a person sustains a hernia as a result of on-the-job activities, they should be able to recover compensation for their medical bills and a portion of their lost wages. Here, our local workers' compensation attorneys want to discuss the process of filing a workers' compensation claim after sustaining a hernia in the workplace.
When to File a Workers' Comp Claim in Illinois
In order for an individual to be able to secure compensation for a hernia through workers' compensation insurance, the injury had to have happened as a result of a job-related duty. If the hernia occurred due to an incident that happened during work hours, it is very likely that an individual will be able to recover compensation for their losses.
It is crucial for individuals to file work injury claims as soon as possible. In Illinois, a work injury has to be reported to an employer within 45 days from the injury occurring. However, the workers' compensation statute of limitations is three years from the date an injury occurs if no compensation has been paid for the injury yet, and two years from the date of last payment if some compensation has been paid for the injury.
Types of Compensation Available
There may be various types of compensation available to work injury victims in Illinois. If you sustain a hernia, we should be able to receive the following types of compensation:
Complete coverage of all medical expenses related to the hernia
Any surgical care needed due to the hernia
Physical therapy and rehabilitation expenses
Prescription medication costs
In addition to these medical costs, individuals should be able to receive temporary total disability benefits that equal two-thirds of the individual's average weekly wage. If a person is able to return to work in a light-duty scenario while they are recovering, they will be eligible for two-thirds of the difference between the wage they are earning at the light-duty job and the wage they typically earn at their regular job.
Do You Need an Attorney for a Workplace Hernia Injury?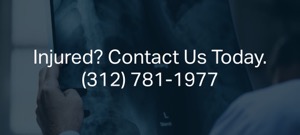 If you or somebody you know has sustained a hernia injury as a result of on-the-job duties, you need to work with an attorney to recover compensation for your losses. If the workers' compensation insurance carrier or the employer denies the claim or fails to offer fair compensation, an attorney may be able to help you recover full compensation for your losses.
Additionally, if the hernia was caused by the actions of a third party in the workplace, you may be able to file a personal injury lawsuit in order to recover additional types of compensation, including coverage of pain and suffering damages and full lost wage replacement.
A skilled attorney will be able to conduct an independent investigation into the injury, work with trusted medical professionals, and handle all negotiations with insurance carriers to recover the compensation you are entitled to.
It is not uncommon for insurance carriers and employers to try and say the hernia happened as a result of non-work-related duties. However, an attorney will work diligently to show that the injury occurred while you were at work so you can recover the compensation you need.