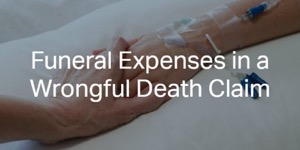 Losing somebody that you loved is incredibly difficult. This is particularly true if the person you care about lost their life due to the negligent or intentional actions of somebody else. Often, family members in these situations are able to recover compensation through a wrongful death lawsuit. One of the expenses involved in these cases is the cost of a funeral and the burial. Here, we want to talk about whether or not a funeral and burial expenses are covered in a wrongful death claim in Illinois.
How Much Does Funeral and Burial Cost?
Data available from the National Funeral Directors Association (NFDA) shows that funeral and burial expenses can be fairly costly. In Illinois, the average cost of a burial is $7,855, and the average cost of cremation is $5,021.
Of course, these costs can vary widely depending on a family's needs. The bottom line is that most families do not have this type of cash sitting around ready to pay for unexpected funeral and burial expenses. It is crucial for families of those who have lost their lives due to the actions of others to secure the compensation they need to help with these expenses.
What Expenses are Considered "Funeral" Costs?
There are various types of expenses that are considered "funeral and burial" costs. This can include, but is not limited to, the following:
The funeral home's basic service fee
Transportation of the remains to the funeral home
Embalming
Cosmetic styling
Staff and facilities to manage a viewing
Staff and facilities to manage a funeral ceremony
Hearse
Service car
Memorial printing packages
Casket
Vault
There are various other types of services and products offered by funeral homes that families will have to decide whether or not to use. It is not uncommon for the cost of a funeral to rise significantly above the average, even with just a few extra add-ons to help grieving family members get through the difficult process.
Can You Secure Funeral and Burial Costs in a Wrongful Death Claim?
In most situations, family members of those who have lost their life due to the actions of others will be able to secure compensation for funeral and burial expenses if their wrongful death claim is successful. There are certainly other types of compensation available to grieving family members as well. This can include:
Coverage of any medical expenses incurred before death
Pain and suffering damages
Loss of future earnings of the deceased
Loss of future inheritance of the deceased
Loss of care and companionship of the deceased
Loss of consortium damages
…and more
A skilled wrongful death attorney in Chicago will be able to fully examine every aspect of your claim and help you and your family work through this difficult process.
Time Limit to File a Wrongful Death Lawsuit in Illinois
Family members need to be aware that there is a limited amount of time for them to file a lawsuit against the alleged negligent party in these cases. The Illinois wrongful death statute of limitations is two years from the date of death. Failing to file a lawsuit within this timeframe could result in the family being unable to recover the compensation they need. There are various exceptions related to wrongful death statute of limitations, so please speak to a skilled Chicago personal injury attorney for assistance with your case as soon as possible.