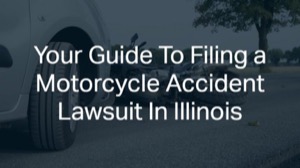 Motorcycle accidents can result in severe injuries for victims because motorcyclists do not have much protection from the force of a vehicle slamming into them. If you or somebody you care about has been injured in a motorcycle accident caused by the careless or negligent actions of another driver, you need to seek legal assistance as soon as possible. Here, we want to discuss some of the most common questions motorcycle crash victims have about lawsuits surrounding these cases. Data available from the Illinois Department of Transportation shows us that there were 2,266 total motorcyclist injuries and 119 motorcyclist fatalities across the state during the latest reporting year. If you have been injured in an accident, contact our Chicago motorcycle accident lawyers today for a free case evaluation.
What Is The Average Payout For A Motorcycle Accident?
The payout that a motorcyclist receives in these lawsuits will vary significantly from case to case. There is no set amount of money paid out to motorcycle accident victims in the state of Illinois. Motorcyclists that are injured due to the careless or negligent actions of other drivers will typically see their cases resolved through insurance settlements, though it may be necessary for a motorcyclist to file a personal injury lawsuit against the at-fault driver to recover compensation.
There are several factors that go into how much compensation is awarded in these cases, particularly revolving around the severity of the injuries and the level of the victim's pain and suffering. Cases involving relatively minor injuries may be resolved with settlements of a few thousand dollars. However, accidents involving catastrophic injuries, such as a spinal cord injury, could reach more than a million dollars.
What Are The Odds Of Surviving A Motorcycle Accident?
Motorcyclists face an increased chance of being killed in the event they are involved in an accident. There is no doubting that motorcyclists are much more vulnerable on the roadways than those inside traditional passenger vehicles. The Illinois Department of Transportation states that, during the latest reporting year of data, motorcycle crashes accounted for less than 1% of total vehicle crashes. However, motorcycle crashes accounted for more than 12% of all fatal traffic crashes that year.
The reality is that motorcyclists face significant risks on the roadway. While the majority of motorcycle accident victims do survive, many motorcyclists are left with severe injuries. It is not uncommon for a motorcyclist to sustain the following after a crash:
Broken or dislocated bones
Severe lacerations or road rash
Amputations or crush injuries
Internal organ damage
Internal bleeding
Spinal cord injuries with paralysis
Other severe back and neck injury
Traumatic brain injury
Concussion
Open head wounds
Significant scarring or disfigurement
A non-fatal injury could end up significantly altering a motorcyclist's life. Often, motorcycle accident victims are unable to participate in the same daily activities they are accustomed to. This could result in a victim being unable to work and make money. We should note that motorcycle accident victims face a higher likelihood of sustaining significant emotional and psychological trauma as a result of the accident and their injuries. Though emotional and psychological injuries are not as visible as the traumatic injuries listed above, they can still significantly affect a person's daily activities as well as their ability to work.
How Is Pain And Suffering Calculated In Illinois?
Pain and suffering damages are often calculated using various methods. Typically, this will either be a multiplier method or a per diem method.
When using a multiplier method, the first step will be to calculate all economic damages associated with the motorcycle crash. This means that the victim's medical bills, lost wages, and out-of-pocket losses will all be totaled. That total will then be multiplied by a set number (ranging anywhere from 1.5 to 5) to reach the total compensation that will be requested for pain and suffering.
For example, suppose that a motorcycle accident victim sustains $25,000 and medical bills as well as $5,000 in lost wages for a total of $30,000 in losses. If a multiplier of three is used to calculate the pain and suffering damages, then this will result in the $30,000 being multiplied by three to a total of $90,000.
Overall, the motorcycle accident victim or their attorney will ask for $120,000 in total compensation, which is the sum of the economic losses and the pain and suffering damages.
The per diem method is an alternate way to calculate pain and suffering damages. In these cases, the compensation will be determined by placing a value on the daily pain and suffering. For example, a daily rate of $300 could be used and then multiplied by the total number of days the victim was suffering from their injuries.
How Long Do You Have To File A Motorcycle Accident Claim In Illinois?
Every state is responsible for setting a time limit for how long injury victims have to file lawsuits against the alleged negligent party in their case. The Illinois personal injury statute of limitations is two years from the day an injury occurs. This means that motorcycle accident victims will have two years from the date of the accident occurs to file a lawsuit against any alleged negligent party. Failing to file a lawsuit within this timeframe could result in the victim being unable to recover compensation for their losses, regardless of how clear the fault of the other party is or how much loss the victim has incurred.
Compensation Available
There are various types of compensation that could be available to a motorcycle accident victim in Illinois if their case is successful. This includes both economic and non-economic compensation. Motorcycle accident victims and their attorneys are often able to recover the following:
Full compensation for all medical bills
Coverage for any long-term care needed
Lost income if a victim cannot work
General household out-of-pocket expenses
Pain and suffering damages
Loss of quality of life damage is
Possible punitive damages against a grossly negligent party
Securing full compensation in the aftermath of a motorcycle crash in Illinois can be challenging, and victims need to work with a skilled attorney who has the resources and legal expertise necessary to stand up to aggressive insurance carriers to ensure their client is treated fairly.