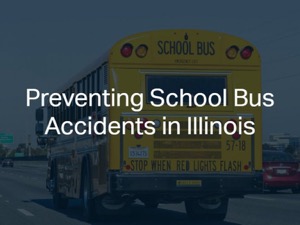 School buses play an integral role in our society. These vehicles get children to and from school and other school-related events, which is an incredibly important service for working parents. However, accidents involving school buses do occur in Chicago and throughout Illinois. Even though school bus drivers have tremendous responsibilities, they cannot be the only ones working to prevent these accidents. Here, our Chicago bus accident attorneys want to discuss the steps that you can take to help prevent school bus accidents from occurring.
School Bus Accidents Can Cause Severe Injuries
When we examine data available from the Illinois Department of Transportation, we can see that there were 1,227 total crashes involving school buses across the state of Illinois during the latest reporting year.
Out of these incidents, we can see the following statistics:
One school-aged child lost their life 

85 school-aged children were injured

No school bus drivers were killed

39 school bus drivers were injured
School bus crashes accounted for less than 1% of the total crashes across Illinois during the most recent reporting year. In fact, the number of school bus crashes has been decreasing from one year to the next for a few years now. However, when these incidents do occur, they often result in severe injuries for those involved. This includes the children on the bus as well as drivers and passengers in other vehicles involved in a collision with the school bus.
Preventing A School Bus Crash
As a driver on the roadway, you have responsibilities when operating around school buses. In fact, the law is very stringent about driver responsibilities in these situations.
When a school bus is stopped and has its lights flashing and the extended stop arm released, the law states that drivers in all answer traffic in both directions on a two-way street must come to a complete stop.

On four-lane roads with at least two lanes moving in the opposite direction, only motorists going in the same direction as the bus are required to stop.

Additionally, drivers are required to stop at least 20 feet from the bus when the lights are flashing and the stop arm is extended.
Preventing a school bus accident requires that all drivers take extra precautions when they see a bus on the roadway, regardless of whether or not there are children on the bus. Often, it can be difficult to know when there are passengers on board. When a school bus resumes movement after a stop, drivers still need to remain vigilant. There is a good chance that children will be on or around the roadway, and those children may not focus on the other vehicles around them.
Vehicle drivers should take extra precautions when operating in school zones. Under Illinois law, the speed limit for all school zones is 20 mph, regardless of the speed limit is for the road the school is actually on. Since the areas around the school or where drivers are most likely to operate close to a bus, special attention in these areas can go a long way in preventing accidents.
It is important to understand that school buses weigh much more than traditional passenger cars. Collisions with these vehicles can result in severe injuries for drivers and passengers inside a regular vehicle. Additionally, children do not have to buckle their seatbelts when they are inside of a school bus in Illinois. When a collision occurs, this could result in the children being thrown from their seats, causing severe injuries.