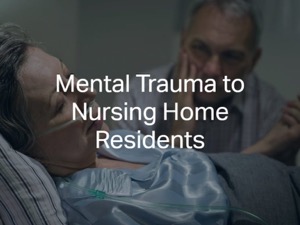 Nursing home abuse is abhorrent, and it can occur in a variety of ways. There are millions of nursing home residents throughout the United States, and the number of elderly people requiring assistance increases every year. Not all types of nursing home abuse are related to physical trauma. Nursing home residents can also experience mental trauma as well. Here, our Chicago nursing home abuse lawyers want to discuss the emotional and psychological trauma that nursing home victims can endure at the hands of their caretakers.
Understanding Emotional And Psychological Abuse In Nursing Homes
According to data available from the National Council on Aging, approximately 10% of those over age 60 have suffered from some form of elder abuse in the US. Some estimates show that as many as five million elderly people in this country sustain some form of elder abuse each year.
Inside of a nursing home, abuse can occur in a variety of ways. This includes physical abuse and sexual abuse, as well as a neglect of basic necessities. However, nursing home abuse can also include emotional and psychological trauma.
Mental trauma in a nursing home may or may not be accompanied by physical abuse, and is therefore often difficult to uncover. However, mental trauma can be incredibly detrimental to the well-being of a nursing home resident. There are various ways in which mental trauma can occur in a nursing home, including the following:
Name-calling or teasing a resident
Insulting a resident about their appearance or intelligence
Threatening a resident with isolation
Threatening to move the resident to another facility
Exerting control over a resident's activities, including transportation, telephones, and recreational events
Signs And Symptoms Of Mental Trauma In Nursing Home Residents
The mental trauma a nursing home resident endures may not be immediately apparent to family members and friends. However, there are various signs and symptoms of mental abuse that loved ones need to be on the lookout for. This can include, but is not limited to, the following:
Drastic changes in behavior
Withdrawn behavior
Newfound depression
Confusion
Anger or frustration
Fear or anxiety
Family members and friends of nursing home residents should also be suspicious if their loved one exhibits signs of fear or anxiety around certain caretakers. This could be a sign that they have sustained some form of abuse.
Because mental and emotional abuse is often linked with physical and sexual abuse or neglect, loved ones of those in nursing homes should also regularly check for physical signs and symptoms of abuse. This can include unexplained bruising, broken bones, bedsores, or obvious signs of neglect.
It may not be possible to prevent every form of nursing home abuse, but it is advisable to check in as often as possible with loved ones inside of nursing homes. Even if you cannot be there in person on a regular basis, you should schedule a regular phone call or video chat to connect with your loved one. Nursing home staff members will be much less likely to abuse those who have active friends and family members checking in on them.
If you suspect that your loved one has suffered from any kind of abuse in a nursing home, including mental trauma, you need to speak to a Chicago personal injury attorney as soon as possible. An attorney will work with law enforcement officials and state regulatory agencies to conduct an investigation to determine what happened.