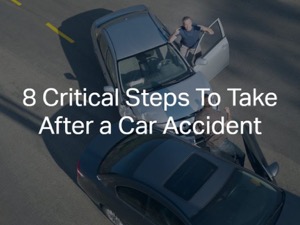 If you or somebody you care about has been injured in a car accident caused by the careless or negligent actions of another person, we understand this can be a confusing and challenging time for you and your family. Not only do victims in these cases have to deal with their injuries, but they also must contend with additional expenses brought on by medical care, lost wages, and possible rehabilitation. A car accident victim can take various steps to ensure that they receive maximum compensation for their claim. For more information about your particular case, contact our Chicago car accident lawyers now for a free consultation.
1. Stop, check for injuries and call 911
As soon as a crash happens, you need to pull your vehicle to a safe location, if possible. Check yourself and your passengers for injuries, and call 911. Even if a crash seems relatively minor, it likely needs to be reported to the police under Illinois law. Let law enforcement authorities conduct a preliminary investigation into the incident, as the incident report valuable part of your insurance claim.
2. Seek medical assistance as soon as possible
Regardless of how minor or major an injury may seem, you need to seek medical assistance as soon as possible. Please understand that many car accident injuries do not seem severe at first but become apparent hours or even days after a crash occurs. By seeking medical assistance soon after an accident occurs, you are ensuring your well-being while also establishing a clear link between the crash and your injuries.
3. Gather evidence and exchange information
If you can safely do so at the scene, use a smartphone or some other type of camera to take photographs of damages, injuries, causes of the accident, traffic and weather conditions, and more. Make sure you get the names and contact information of any eyewitnesses to the crash, as well as the driver's license number and insurance information of all other drivers involved.
4. Report the car accident (if not already done)
In general, if the police come to the scene, they will be the ones to file the accident report with state officials. However, if the police do not come to your car accident scene, you will be responsible for filing the accident report within 10 days of it occurring. You can file your own next report by going to the Motorist Report website and downloading the form.
5. Notify your insurance carrier
Soon after an accident occurs, you need to notify your own insurance carrier of the incident. Your preliminary report does not need to go into detail. All your insurer needs to know is that an accident occurred, where it happened, whether there were any injuries, and the names and insurance information of other drivers involved.
6. Be ready to handle calls from the at-fault party's insurance company
If another driver caused your accident, you can be sure that their insurance carrier's claims adjuster will call you soon after the incident. Please understand that this person does not work for you, and their goal is to lower the amount of money they pay in a settlement. Do not give a recorded statement and do not agree to sign over your medical records. Notify the claims adjuster that they should speak to your attorney.
7. Speak to an attorney about your case
You should seek a free consultation from a skilled injury attorney in Chicago. Let an attorney make a determination about the viability of your case and let them point you towards the best path for receiving maximum compensation. When a car accident lawyer takes your case, they will usually do so on a contingency fee basis. This means that you owe no legal fees until after they have secured the compensation you deserve.
8. Be mindful of the statute of limitations
Please be mindful that Illinois has a two-year statute of limitations in place for car accident claims. This means that victims of a car accident have a two-year window with which to file a claim against an alleged negligent driver.