If you or somebody you care about has been injured in a vehicle accident caused by the careless or negligent actions of another driver, you are likely entitled to compensation for your injuries and property damage. However, receiving your rightful compensation is often a difficult task, particularly when dealing with aggressive insurance carriers and at-fault parties. Our Chicago car accident lawyers are regularly asked by clients how long it will take to settle their car accident case. The truth is that there is no "one" way to answer this question, as each case varies depending on certain factors involved. Here, we want to discuss some of those factors with you.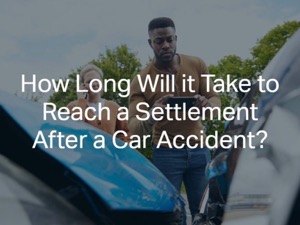 Most Cases are Resolved Through Insurance Settlements
The vast majority of all car accident cases are resolved through settlements with insurance carriers. Every person involved in an accident will be required to report the incident to their respective insurance carriers soon after the crash occurs. The insurance carriers will then begin their own investigations into the crash in order to determine which party was at fault. While there may be back and forth between the insurance carriers about shared liability, these cases are ultimately resolved before a personal injury lawsuit needs to be filed. This process could take a few weeks, or even a few months, before a final settlement is paid.
However, if the insurance carrier of the at-fault party refuses to offer a fair settlement or denies a claim altogether, the car accident injury victim will need to file a personal injury lawsuit against the at-fault driver.
A Personal Injury Lawsuit May Need to be Filed
If the insurance carrier of the at-fault party denies the claim or refuses a fair settlement, the car accident injury victim may need to file a lawsuit. The Illinois personal injury statute of limitations is two years from the date an accident occurs, but car accident injury victims should certainly not wait this long to file their claim.
Even after a lawsuit has been filed, it is still unlikely that the car accident case will be heard in front of a jury. Attorneys for both parties will continue negotiations throughout the investigation process and the discovery phase in an effort to reach a fair settlement. Most personal injury lawsuits are resolved before they go to a full trial. However, the personal injury lawsuit process is often drawn out for a year or more. Even cases that are resolved before the trial occurs could take quite some time to reach a conclusion.
For cases that do go to a full trial, the parties involved are left to the mercy of the court docket (schedule). It is not uncommon to see car accident cases in Illinois go to trial years after the actual incident took place.
Work With a Skilled Lawyer
If you or somebody you care about has been injured in a car accident caused by another driver, work with a skilled attorney as soon as possible. Your lawyer will help you chart the best path forward to receive maximum compensation for your claim. This could mean taking a settlement from an insurance carrier, or this could mean filing a personal injury lawsuit. A Chicago personal injury attorney will have the resources and the legal expertise to help you through this process.