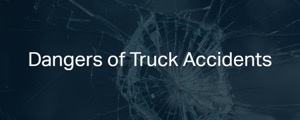 Any vehicle accident has the potential to lead to significant injuries and extensive property damage. However, accidents involving larger commercial trucks are typically more devastating. These vehicles can weigh tens of thousands of pounds, and they are much larger than traditional passenger vehicles on the roadway. Here, our Chicago truck accident lawyers want to discuss what factors make truck accidents more dangerous than regular vehicle versus vehicle collisions in Illinois.
Commercial Truck Size and Weight
Most passenger vehicles on the roadway weigh anywhere from 3,000 pounds to 5,000 pounds. While this may seem like a lot of weight, the reality is that many trucks on the roadway significantly surpass these sizes.
Data available from The United States Department of Transportation's Federal Highway Administration indicates that commercial trucks can weigh as much as 80,000 pounds when they have a full load of cargo. Additionally, larger trucks can reach a length of up to 75 feet, depending on the type of connection between the trailer and the tractor portion of the vehicle.
The size and weight differences between large commercial trucks and most passenger vehicles on the roadway mean that these incidents are likely to lead to severe injuries and extensive property damage, far beyond what traditional car accidents result in.
Injuries Caused by Large Truck Crashes in Illinois
Data from the Illinois Department of Transportation indicates that there were approximately 12,500 total accidents involving truck tractors with semi-trailers during the latest reporting gear across the state. Out of these incidents, there were 1,935 total injury crashes and 114 fatal injury crashes.
Unfortunately, because of the size and weight of large commercial trucks, it is not uncommon for those involved in vehicle accidents with these trucks to sustain the following:
Traumatic brain injuries
Open head wounds
Broken or dislocated bones
Internal bleeding or internal organ damage
Spinal cord trauma
Other severe neck or back injury
Crush injuries or amputations
Significant scarring or disfigurement
Fatal injuries
Large Truck Crash Property Damage
Property damage caused by accidents involving larger trucks on the roadway can also be extensive. Again, the sheer size and weight of these larger vehicles play a major role in the level of property damage involved. Often, traditional passenger cars involved in these accidents are totaled, which means that the cost to repair the vehicle would be greater than the actual cash value of the vehicle.
Contact an Attorney for Help
If you or somebody you love has been injured in an accident involving a commercial truck in Chicago or throughout Illinois, you need to speak to an attorney as soon as possible. These cases can become complex, particularly when dealing with the truck driver's insurance carrier or the insurance carrier of the trucking company. A skilled Chicago truck accident lawyer will be able to handle every aspect of the claim, determine liability, and negotiate for full compensation.
Often, there is more than one party that could be held liable for a truck crash, which can further complicate the pursuit of compensation in these situations. For example, trucking companies may be liable for the actions of the truck driver. However, it is also not uncommon for truck drivers to also be the owner-operator of the vehicle, with them working as independent contractors for larger companies. An attorney will work diligently to understand every party that could be held liable so that they can pursue maximum compensation for their client.