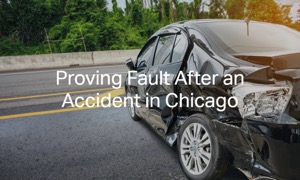 Getting into a car accident can be a scary experience, and the last thing you expect to happen is to be falsely accused of causing the incident. In the aftermath of being in a car accident, the process can get confusing.
If you were injured or sustained property damage, it will be necessary to work with insurance carriers to recover the compensation you deserve. However, what happens if the other party does wrongfully accuses you of causing the car accident? This can have various implications on your ability to recover compensation for your losses. For more information on your specific car accident claim, contact our Chicago car accident lawyers today for a free consultation.
Contact Our Team of Attorneys Immediately
The first step you need to take in the aftermath of a car accident if the other driver has wrongfully accused you of causing the incident is to secure a skilled car accident attorney to work on your behalf. An attorney will have the resources and legal experience necessary to conduct a full investigation into your case in order to determine liability.
An attorney is your advocate, and they will understand any tactics used by the other party or their insurance carrier in an attempt to shift blame onto you.
Gather As Much Evidence As Possible
You or your personal injury attorney will want to gather as much evidence as possible in order to prove fault for the car accident. This will include obtaining the following:
Any video surveillance that may have captured the crash
Photos taken at the scene of the crash by you, passengers, or bystanders
Statements from any eyewitnesses to the incident
Statements made by other drivers and passengers
The police report or accident report
By gathering as much evidence as possible, as well as statements from credible witnesses, your attorney will be able to build your case and work to prove that the false accusations made against you are wrong.
Is Illinois A No-Fault State?
Illinois is not a no-fault state. A no-fault state is one in which each driver will turn to their personal insurance carrier for coverage of their expenses, regardless of which party caused the crash. However, Illinois is a fault-based state when it comes to vehicle accidents. This means that the driver that is found to be at fault for the incident will be responsible for covering the expenses of other parties injured as well as the property damage of others involved.
Because Illinois is a fault-based state, it is even more important to ensure that you are not falsely accused of causing a car crash, as this will place the onus on you and your insurance to cover the expenses.
Continue Your Medical Treatment
If you were injured as a result of the car accident, you need to make sure that you seek immediate medical care for your injuries and that you continue any follow-up care suggested by your physician. While your personal injury attorney will most certainly be working to defend you against false accusations of fault, they will also be working to secure any compensation you are entitled to for the accident. This includes ensuring that your insurance pays you a fair amount for your losses and also pursuing a claim against the at-fault driver.