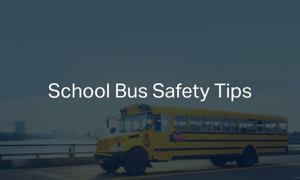 As a parent, we know that there is nothing more important than the safety of your child. This is especially true when it comes to school buses. However, school bus laws often seem vague or confusing for parents. Here, our team of local injury lawyers wants to do what we can to explain the most important school bus safety measures that you need to be aware of.
Some Common School Bus Safety Rules
Phone usage
School bus drivers are not permitted to use phones or any other type of handheld communication device while operating the bus. School bus drivers are required to have access to a phone or two-way radio while they are in control of the bus but have to pull over to the side of the road to report an emergency or mechanical breakdown. At no point should a bus driver use a personal cell phone to make a personal call while they are operating a school bus.
When stopping
School bus drivers are required to follow certain rules in order to maintain the safety of the children they are entrusted with. When we examine 625 ILCS 5/11-1415, we can see that a bus driver is only to stop on the right side of a highway to load or unload passengers. When a bus driver stops, they must turn on their red flashing hazard lights and extend the stop sign arm on the side of the bus. This signals to other drivers that they too must stop their vehicles because children will be loading or unloading from the bus.
Four-lane highways
If a highway has four lanes of traffic (or more), or if the highway allows for traffic to travel in both directions, then the school bus driver is only allowed to discharge children whose places of residence are on the right side of the road or if the stop is at a crosswalk. School bus districts plan these routes in a way that prevents children from crossing any major highway.
Railroad crossings
If a school bus has to travel across a railroad crossing, then Illinois law requires the bus driver to pull over to the right and complete a stop anywhere from between 15 and 50 feet from the railroad. The driver must display their flashing hazard lights, open their window, and look and listen for any oncoming train. After a school bus driver is sure that the crossing will be safe, they can proceed across the railroad tracks. Drivers must do this even if their school bus is empty with no children on board.
Other drivers
When a school bus stops to let children off, the law also restricts what other drivers can do on the roadway around the bus. To begin with, every driver in Illinois has to follow any reduced speed limits during school hours inappropriate zones. If a school bus is stopped on a two-lane roadway, drivers going in both directions must stop and wait until the bus emergency lights have been deactivated and the stop arm is retracted. Drivers should stop at least 20 feet away from the bus.
Working With an Attorney
If your child has sustained an injury while on a school bus, you need to speak to a Chicago bus accident attorney as soon as possible. A lawyer can help investigate the cause of the injury, determine liability, and help you recover fair compensation for what happened.