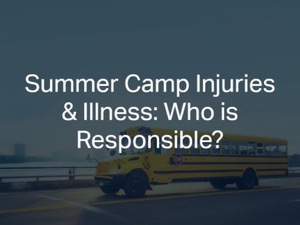 The last thing that any parent or guardian expects is that their child will sustain an injury at summer camp. Unfortunately, children tend to get into all sorts of situations that can cause injuries. In some cases, this is nobody's fault. However, parents and guardians expect that their child will be properly supervised and that the camp will have adequate safety measures in place to protect children. Here, our experienced Chicago child injury lawyers want to discuss who is responsible if a child sustains an injury or illness at summer camp in Illinois.
The Camp Owes a Duty of Care to Campers
In general, summer camp owners and operators will have a duty to keep their campers reasonably safe. This duty falls under the legal theory of premises liability. This duty of care is multifaceted and involves the following:
Keeping the campgrounds maintained and free of hazards
Ensuring activities are age-appropriate
Ensuring activities are not unnecessarily dangerous
Ensuring that all activities are well supervised
Maintaining the quality of the food and beverages provided to campers
Ensuring access to adequate first aid assistance
When an owner, operator, or staff member at a summer camp fails to uphold their duty of care, this could create a situation that causes serious accidents or injuries. If the camp owners or operators breach their duty of care, then parents or guardians may be able to hold them responsible for the child's injuries.
Most Common Summer Camp Injuries and Illnesses
Data available from the American Academy of Pediatrics shows us some statistics that indicate the most common types of injuries or illnesses reported at summer camps. The study that was cited looked at a period of 122,379 camper days.
Most of the incidents reported revolve around illnesses amongst the children. 11.8% of the illnesses were communicable and seen across multiple individuals at the camp.
Additionally, when we look at the most common types of traumatic injuries sustained by children at camp, we can see that 32% of the injuries revolved around cuts, scrapes, or scratches. 14.6% of the injuries reported or fractures, and 10.4% were sprains or strains.
However, this is not an all-inclusive list of the injuries that children sustain at camps. Some other common injuries include rashes, bite injuries, and burns. Additionally, many summer camps involve activities related to water recreation (pools, lakes, rivers, etc.). Children at summer camps could be harmed due to drowning or near-drowning incidents, both of which are much more likely to occur if there is not proper supervision of the children.
Holding Camp Owners and Operators Accountable
In the event a child sustains an injury or illness at summer camp, it will be important for a parent or guardian to properly determine what caused the injury. If a child was harmed because the owners or operators of the camp breached their duty of care to the child, it may be possible to file a premises liability or personal injury lawsuit against the camp. Parents may be entitled to various types of compensation in these situations, including coverage of medical bills, lost income if they cannot work while caring for their child, general household out-of-pocket expenses, pain and suffering damages on behalf of the child, and more. It is crucial for any parent who believes their child has been harmed due to the careless or negligent actions of a camp owner or operator to speak to a skilled Chicago personal injury attorney who has experience handling these claims.