Accidents involving large commercial trucks often result in significant injuries and major property damage. However, determining liability in the aftermath of these incidents can be challenging. It is often necessary for an attorney to get involved and send a letter of spoliation to every party. Here, our team of personal injury lawyers want to discuss a letter of spoliation and how this important documentation can help preserve evidence regardless of whether or not the case is handled through insurance carriers or goes to a personal injury jury trial.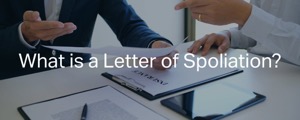 What is a Letter of Spoliation?
A letter of spoliation is not just for truck accidents. Any type of injury that occurs that could lead to an insurance settlement or a civil case involves evidence. This evidence needs to be preserved.
As soon as any type of injury occurs where a person has to seek legal assistance, an attorney will typically begin gathering evidence. The attorney will also likely send a letter of spoliation to every party involved in order to make sure that they prevent evidence from being destroyed, altered, or lost. This letter of spoliation puts other parties on notice that there is a potential insurance claim or lawsuit that may arise and that they have a duty to preserve the evidence.
Many states around the country have laws specifically related to the spoliation of evidence. However, Illinois law does not recognize a separate and independent tort for evidence spoliation. When we turn to the Illinois Supreme Court case Boyd v. Travelers Ins. Co., 166 Ill. 2d 188, 652 N.E.2d 267 (1995), we can see that the Court did address the spoliation of evidence, but they recognized that the claim for negligence spoliation can be brought under existing negligence laws in the state.
In order to bring a claim for the negligent spoliation of evidence, an injury victim (the plaintiff) must show:
The defendant's duty to preserve evidence
A breach of the duty to preserve evidence
An injury or damages caused by the breach of duty
Quantifiable damages caused by the injury
How Could Spoliation Affect an Illinois Truck Accident Case?
Truck crash victims in Illinois face an uphill battle when it comes to recovering compensation. They are often left going up against aggressive insurance carriers and trucking companies who have the finances necessary to fight these claims. Proving liability in these situations involves gathering as much evidence as possible.
There are various types of evidence that should be gathered as soon as possible after a truck crash occurs, and a letter of spoliation can help ensure that all of this evidence is preserved properly:
The electronic control module (ECM) for the truck
The driver's electronic logging device (ELD)
Paper logbooks
Mobile device data
Truck company GPS data
Truck company dispatch recordings
Inspection and maintenance records
Police or accident reports
Trucking company hiring and training records
The truck driver's safety record
Any video or photo footage from the crash
Statements made by witnesses
Debris from the accident scene
Weigh station receipts
Work With an Attorney for a Truck Accident Claim
If you or somebody you care about has been injured in a truck crash caused by the actions of a driver or trucking company, reach out to a skilled lawyer as soon as possible. A truck accident attorney in Chicago can send a letter of spoliation to every party involved quickly, including the truck company, the truck driver, the insurance carriers, and any legal teams for those parties.