If you or somebody you care about has been injured or sustained property damage due to the careless or negligent actions of a truck driver or trucking company, you need to seek legal assistance immediately. Accidents involving large commercial trucks become incredibly complicated, particularly when it comes to determining liability and securing fair compensation. Here, we want to discuss what a Chicago truck accident attorney can do to help resolve your case in a way that secures maximum compensation for your losses.
Call an Attorney Once the Emergency is Over
Ideally, individuals involved in an accident with a large commercial truck should call a skilled attorney as soon as possible after the collision occurs. We understand that the initial aftermath of a truck crash can be chaotic. The number one priority has to be seeking medical care for any injuries that occur.
It is crucial to point out that the best way to ensure that truck crash victims recover full compensation for their losses is to gather as much evidence as possible that can prove liability. Unfortunately, evidence begins to disappear as soon as the truck collision occurs. All too often, individuals go to the hospital to receive treatment for their injuries and then realize that the accident scene is completely cleaned and clear by the time they get discharged or can get somebody else there to help.
When an attorney gets involved early in a truck accident case in Chicago or anywhere in Illinois, they can send someone to the scene of the crash to begin the evidence-gathering process. Additionally, a Chicago personal injury lawyer can send a letter of spoliation to every party involved notifying them that they are not to destroy or alter any evidence that may be used in a potential insurance settlement or civil personal injury trial.
An attorney will also be responsible for handling all communication and negotiations with insurance carriers or the trucking company.
Working With an Attorney After the Process has Begun
It is okay if you did not call an attorney right away after your truck accident occurred. Most people think that these incidents will be handled just like regular car accident claims, but they often discover very quickly that these cases are more complex.
If you have started your insurance claim against the trucking company and their insurance carrier without speaking to an attorney, do not hesitate to call an attorney at any point during the process. The insurance carriers and legal teams for the driver and truck company will likely try to use your inexperience against you. This can include offering an unreasonably low settlement amount in hopes that you will take the low offer and be done with the claim.
However, a lawyer can take over all communication and negotiations for you at any time and begin the process of recovering fair compensation on your behalf.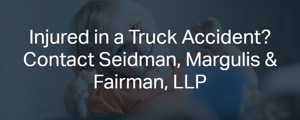 Types of Compensation Available for an Illinois Truck Crash
There may be various types of compensation available to truck crash victims in Chicago and throughout Illinois. In general, an attorney will work diligently to recover both economic and non-economic types of compensation for their client. This can include, but is not limited to, the following:
Coverage of all medical expenses related to the incident
Lost wages if a crash victim cannot work
General household out-of-pocket expenses
Loss of enjoyment of life damages
Emotional and psychological damages
Property damage expenses
The total amount of compensation available for these claims will vary depending on several factors, including the severity of the injuries, the level of property damage, how much time away from work a victim needs, and the overall level of pain and suffering.