Rideshare Accident
Chicago Rideshare Accident Attorney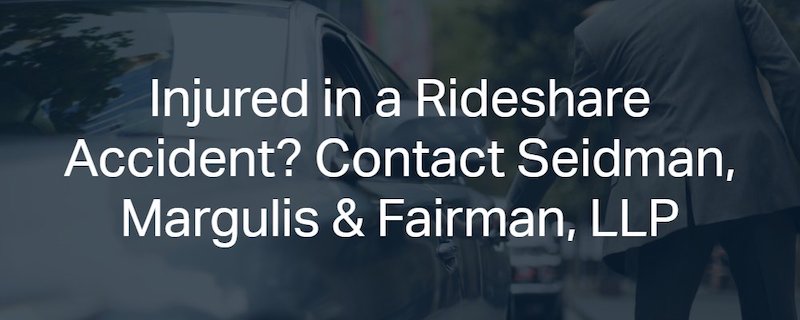 Rideshare services have become incredibly popular in and around Chicago. There are many different rideshare companies that operate in this area, from the major names like Uber and Lyft to others such as Via, Didi, and Ola. However, if you are involved in an accident involving a rideshare vehicle, you may need to seek legal assistance. At Seidman, Margulis & Fairman, LLP, our Chicago rideshare accident attorneys will investigate your case and secure the compensation you are entitled to.
Why Choose Seidman, Margulis & Fairman, LLP To Help?
After sustaining an injury in an accident involving a rideshare vehicle, you can count on Seidman, Margulis & Fairman, LLP to have the experience and resources necessary to help your case.
Our team of Chicago car accident lawyers have a reputation for success and have secured hundreds of millions of dollars in total compensation through favorable settlements or verdicts.
Our attorneys work with each client personally. We will never hand your case off to a paralegal or junior assistant.
We take Chicago rideshare accident cases on a contingency fee basis, which means our clients do not pay any legal fees until we secure the compensation they deserve.
Do You Need An Attorney For This Case?
Accidents involving rideshare vehicles can become incredibly complicated, particularly when it comes to determining liability and dealing with the various insurance carriers involved. A Chicago rideshare accident attorney will gather all evidence related to the crash, including photo or surveillance footage, eyewitness statements, and the accident report.
An attorney will then handle all communication with everybody involved, including aggressive insurance carriers, to reach a fair settlement for their client.
Rideshare Accidents Can Become Complicated
Most people are used to seeing Uber and Lyft stickers or lights on vehicles, and it is no longer an odd concept to get into a stranger's vehicle for a ride. However, what happens if you are involved in an accident with a rideshare vehicle?
Rideshare company insurance policies can be difficult to interpret. If a rideshare driver causes an accident, but they are not signed into the rideshare system to work, then their personal insurance carrier is responsible for handling compensation for damages and injuries.
If a rideshare driver causes an accident while they are on-duty, but they do not have a passenger, then their personal insurance carrier will still be primarily responsible for coverage. In these cases, Uber and Lyft do provide limited coverage if a claim is denied or insurance policy limits are exhausted.
If a rideshare driver is on-duty and has a passenger or is on the way to pick one up, then both Uber and Lyft have $1 million liability insurance policies that are supposed to cover everybody involved in the accident.
Can You Get Compensation For This Claim?
There are various types of compensation victims may be entitled to if they are involved in an accident with a rideshare vehicle. At Seidman, Margulis & Fairman, LLP, our team regularly helps clients secure the following types of compensation:
Coverage medical bills related to the crash
Lost income if they cannot work
Pain and suffering damages
Loss of enjoyment of life damages
Possible punitive damages if there was gross negligence or intentional actions
Can You Sue Uber if You Get in an Accident?
Yes, there is certainly a way for you to sue Uber or another rideshare company in the event you are involved in an accident with their vehicles. However, there are going to be various limitations in place with these types of lawsuits.
It is important to understand that Uber and other rideshare companies typically have deep pockets that they can use to insulate them from lawsuits when their drivers get into an accident. Perhaps the best insulation that these companies have from these situations is that drivers are considered independent contractors, not actual employees. This takes away vicarious liability claims in most situations. However, there are various situations in which it may be acceptable to file a lawsuit directly with Uber if a crash occurs.
If Uber or another rideshare company was negligent when hiring a driver, this could open the door to a lawsuit. Consumers expect that Uber will conduct adequate background checks to ensure that their drivers are up to the task of ferrying passengers from place to place (i.e. no prior DUIs and a plethora of traffic violations).
Additionally, if Uber or another company failed to respond to safety complaints against a driver, this could open the door to a lawsuit in the event a collision occurs and causes an injury or property damage.
The reality is that most of these collision claims are going to go through insurance carriers before they ever rise to the level of a lawsuit against the rideshare company.
What Happens if Your Uber Driver Gets Into an Accident?
As we mentioned above, the process of securing compensation is going to be different depending on the actions of a driver at the time the collision occurs. Particularly, we will be looking at whether or not an Uber driver was operating in their capacity as a "rideshare driver" when the collision occurred. Presumably, if you are in a vehicle as an Uber passenger and the driver gets into an accident, the driver will have been on duty working for the rideshare company when the collision occurred.
This is good news when it comes to securing compensation. Uber and other rideshare companies typically have $1 million liability insurance policies that kick in to cover any party involved in an accident if a driver is on duty and has a passenger. This does not mean that it will be easy for a passenger to secure compensation for their injuries or property damage. Just like any type of vehicle accident that occurs, insurance carriers can put up a fight. However, rideshare passengers injured in accidents caused by a driver will not typically have to spend a significant amount of time proving that the incident occurred or trying to show that they were not at fault.
When Should You Contact a Lawyer After an Accident?
If you or somebody you care about has been injured in an accident involving an Uber vehicle, it would be a wise move to contact an attorney as soon as possible. A Chicago rideshare accident lawyer will have extensive experience handling every aspect of these claims. Unfortunately, an accident involving an Uber or Lyft vehicle, or any other rideshare service, will likely be much more complex than regular vehicle accident claims. There will be additional parties involved, ones that usually are not present during most vehicle insurance settlements or lawsuits.
An attorney needs to get involved as quickly as possible in order to head off any difficulties presented by insurance carriers, rideshare companies, or legal teams. A rideshare accident lawyer can begin an investigation, uncover the evidence needed to prove liability, and begin communication with insurance carriers immediately. An attorney will be able to evaluate the fairness of any potential settlement offer that comes your way, and they will negotiate if an initial settlement is inadequate. Finally, an attorney will fully prepare the case for a trial by jury if necessary to ensure that rideshare accident victims are treated fairly.
Is it Worth Getting a Lawyer for a Minor Rideshare Car Accident?
It can be instinctual for a person to chalk up an accident as "no big deal," particularly if they do not feel any pain right away or have only sustained minor injuries. However, this is not the time to act tough and pretend that everything is okay. The reality is that it can be very difficult to understand the severity of vehicle accident injuries in the immediate aftermath of a crash. The signs and symptoms of some vehicle crash injuries do not occur until hours or even days after an incident occurs.
First and foremost, it is important for any rideshare accident victim to seek medical care as soon as possible, even if they do not feel any pain. Not only does this ensure a victim's well-being, but it also establishes a strong link between the rideshare accident and the injuries. Even if injuries arise at a later date, a victim needs to have an established pattern of going to the doctor after the accident.
An attorney can get involved very quickly and help secure compensation for any injuries that have occurred after the rideshare accident. Insurance carriers may try to step in and claim that minor injuries do not need much, if any, compensation. However, that is not their place to say. An attorney can work with medical experts and help their client recover total compensation. Even minor medical emergencies following a rideshare crash can add up to major medical bills.
What if There is Shared Fault?
If you are a passenger inside of a rideshare vehicle involved in an accident, the good news is that it is very unlikely that you will share any of the fault for the incident. This means that you should be able to recover total compensation for your losses from insurance carriers or through a personal injury lawsuit. However, if you are in another vehicle involved in a crash with a rideshare vehicle, it could very well be the case that some of the fault for the incident falls to you.
Shared fault is not a new concept, and Illinois operates under a modified comparative negligence system to handle these incidents. This means that a person can still recover compensation for a vehicle accident if they are less than 50% responsible for the incident. However, the total amount of compensation a person receives will be reduced based on their percentage of fault.
For example, if a person is involved in an accident with an Uber vehicle and sustains $100,000 worth of injury and property damage expenses, but it is determined that they were 20% responsible for causing the crash, then they would receive $80,000 instead of the full $100,000.
Any person 50% more responsible for a vehicle collision will not be able to recover compensation from the at-fault party.
Uber and Lyft Rideshare Accident Statistics: Your Legal Rights
Even though rideshare companies have been around for quite a few years now, there are not very many comprehensive studies that look into the safety of these companies. When we look at every state's crash data, we are not going to find breakdowns about how many accidents occur each year involving Uber or Lyft vehicles. This is just not something that most states keep track of, including the Illinois Department of Transportation.
However, if we look at a recent University of Chicago Booth School of Business study, we can see that rideshare companies like Uber and Lyft have led to a 3% increase in the overall car accident fatalities. This in-depth study analyzed the onset of various rideshare companies and rideshare popularity and how this corresponded with an increase in motor vehicle accidents and roadway fatalities.
Researchers for this study analyzed eight financial quarters for both Uber and Lyft after these services debuted as well as other factors, including the popularity of rideshare usage, traffic volume, preferred methods of transportation, and overall vehicle accidents.
What this data does not show is whether or not rideshare drivers are more dangerous on the roadways. This simply just means that there is an increase in commercial-type transportation vehicles, and this increase, subsequently, lead to more vehicle accidents and traffic fatalities. Rideshare drivers are just like any other driver on the roadway – they are just as likely to make mistakes (or not make mistakes) that lead to accidents.
Contact Our Rideshare Accident Lawyers in Chicago Today
If you need a Chicago rideshare accident attorney, contact us for a free consultation at (312) 781-1977.