T-Bone Accident
Chicago T-Bone Accident Lawyers
A side-impact crash will take you by surprise, but that will be the least of your concerns after your accident. Once you have gotten over the initial shock, you have to take action to make sure your rights are protected. With an experienced Chicago T-bone accident attorney on your side, you can make sure you maximize your settlement.
At the Seidman Margulis & Fairman, LLP, we are dedicated to helping all auto accident victims get the medical care they need and the financial compensation they deserve. With almost three decades of experience, Chicago personal injury lawyer Steven Seidman understands the full range of your recovery options.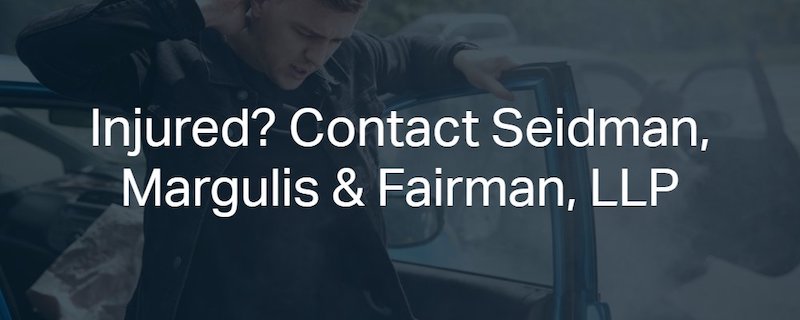 Why Choose Seidman, Margulis & Fairman, LLP?
After sustaining an injury and property damage as a result of an accident caused by another driver, you need to work with an attorney who has extensive experience handling complex injury claims in the Chicago area.
At Seidman Margulis & Fairman, LLP, we are thorough in our preparation and our unwavering pursuit of securing full compensation for our clients' losses.
Our team has been helping men, women, and children secure compensation for their injuries for nearly four decades.
We focus on providing a client-centered approach to every case that we take, which means that we listen to the goals and needs of those who need our help so we can focus on the best outcome for their case.
How Common are T-Bone Accidents?
There is no exact data for how common T-bone accidents are compared to other types of collisions on the roadways. However, if we turn to the Illinois Department Of Transportation, we can see that there were nearly 29,000 total "angle collisions" that occurred across the state during the latest reporting year of data we have on file. T-bone accidents are certainly considered angle collisions, and they often happen at nearly 90-degree angles, with one car hitting the other car on the side.
Out of those nearly 29,000 angle collisions, we can see that there were:
8,524 injury collisions
1,002 accidents involving severe injuries
77 fatal collisions
The reality is that T-bone collisions are fairly common in and around the Chicago area. With so many intersections and roadways that cross one another, drivers must remain vigilant to avoid vehicle accidents of this nature.
Are T-Bone Accidents Deadly?
Yes, T-bone accidents can certainly be deadly. As we mentioned above, 77 of the "angle collisions" that occurred in Illinois during the latest reporting year were fatal. We have to really think about the mechanics of a T-bone collision. Unfortunately, those involved in T-bone collisions are typically more vulnerable to severe injuries, particularly those who are struck on the side of their vehicle.
Vehicles are designed to withstand significant impacts from the front and rear. However, there is less protection for those who are struck on their sides. Yes, modern vehicles do have newer technologies such as side impact airbags, but the reality is that there is less distance between those inside the vehicle and the front of the impacting vehicle than there is when a rear-end or front-impact collision occurs.
There are various factors that determine how severe a T-bone accident will be. Often, these incidents occur with one vehicle traveling at a high rate of speed. The faster vehicles are going when a collision occurs, the more severe the overall incident will be.
Building Your T-Bone Accident Claim
A T-bone collision occurs when one driver strikes another from the side. These accidents are common at intersections and can happen at a number of different angles. Whether your accident occurred at a stoplight, a stop sign, or an intersection without proper marking, there is a good chance there will be different stories about how the accident actually occurred and it is not always clear who is at fault.
We will listen to your story and conduct a thorough investigation in order to gather important evidence to build your case. We will talk to witnesses and accident reconstruction experts, and look into the timing of the lights. These cases often become he said she said battles, but we will do everything possible to prevent that from happening.
Proving Fault in a T-Bone Accident
Proving fault in the aftermath of a T-bone accident can be challenging, and gathering evidence is crucial. Some of the evidence that can help determine liability can be gathered in the immediate aftermath of the crash. For example, those affected by the collisions can use their cell phones or other cameras to take photographs of:
Vehicle damage
Debris around the crash scene
Skid marks
Injuries
Traffic and weather conditions
Additionally, if there were any eyewitnesses to the crash, including bystanders or drivers and passengers in other vehicles, their names and contact information needs to be written down as soon as possible. These witnesses can provide valuable testimony to insurance carriers or to personal injury juries.
In the days following the collision, there are other ways to gather evidence as well. Chicago is filled with cameras, including traffic cameras as well as cameras on nearby businesses and homes. If there were any cameras in the vicinity of the collision, these devices may have valuable footage that could help determine liability for the incident.
Finally, it may be necessary to enlist the assistance of accident reconstruction experts to help determine liability. These individuals are trained in mathematics and science and can use the evidence and create 3D renderings to show what actually happened.
What Happens if I T-Bone Someone Who Ran a Red Light?
If you are following all traffic laws but end up striking the side of another vehicle whose driver ran a red light, there is a good chance that you will not have any liability for the incident unless you also broke a traffic law. The reality is that the driver who ran the red light will likely be at fault for the collision, and you should be able to recover compensation from that driver's insurance carrier for your injuries and property damage.
However, it will be crucial for any person in this situation to work with a skilled lawyer who can gather all of the evidence needed to prove liability. This can include any video surveillance that could show that the other driver did indeed run the red light, so there is no question about liability.
The other driver may try to shift blame to you in a situation like this. They may claim that you were distracted while operating your vehicle, that you were speeding, or that you violated some other traffic law.
Partial Liability for a T-Bone Accident
It is not uncommon for situations to arise where more than one party is at fault for a T-bone collision in Chicago. There are various ways that this could occur, but if a driver is partially responsible for causing a collision, they may still be able to recover compensation for their losses. Illinois operates under what is called a "modified comparative negligence" system. This means that a person can recover compensation if they are less than 50% at fault for causing their own injuries or damages. Any person 50% or more responsible for causing their own injuries will be unable to recover compensation.
However, the total amount of compensation a person partially responsible for a collision receives will be reduced based on their percentage of fault. For example, if Drive A sustains $100,000 in a T-bone collision with Driver B, but Driver A is found to be 30% responsible for the incident, then they would receive $70,000 instead of the full $100,000. Even though these numbers are simplified for the sake of this article, you can see that the $30,000 extra was taken out to account for Driver A's 30% of the responsibility for the incident.
Affording a T-Bone Accident Attorney
We know that it can seem nearly impossible to afford a skilled attorney in the aftermath of an accident in Chicago. At Seidman Margulis & Fairman, LLP, we take Chicago T-bone accident cases on a contingency fee basis. This means that our clients will not have to worry about paying any upfront or out-of-pocket costs while their case is ongoing. In fact, our clients will not have to pay a dime in legal fees until after we recover the compensation they are entitled to. We think this type of fee arrangement is fair because it makes it possible for any individual, regardless of their means, to hold negligent parties accountable for their actions.
Compensation Available After a T-Bone Accident
There may be various types of compensation available to T-bone accident victims in Chicago. If another driver caused the collision, injury, and property damage, victims may be able to recover compensation through an insurance settlement or through a personal injury jury verdict. The attorneys at Seidman Margulis & Fairman, LLP work diligently to recover both economic and non-economic compensation on behalf of car accident injury victims in Chicago. This can include, but is not limited to, the following:
Coverage of all medical bills related to the crash
Lost income if a victim cannot work while recovering
General household out-of-pocket expenses
Property damage expenses
Loss of enjoyment of life damages
Pain and suffering damages
The total amount of compensation available in the aftermath of a T-bone collision in Chicago will vary depending on the facts and circumstances surrounding each particular claim. Some significant factors that affect compensation amounts include the severity of the injuries, the level of property damage, and the level of the crash victim's pain and suffering.
Do Not Wait To Gather Evidence In Your Side-Impact Accident
Since evidence is so important in side-impact crashes, you want to take action as soon as possible. From our offices in Chicago, our Chicago car accident lawyers are ready to help clients across Illinois with their claims. Call (312) 781-1977 or contact us online today to learn more and schedule a free initial consultation.