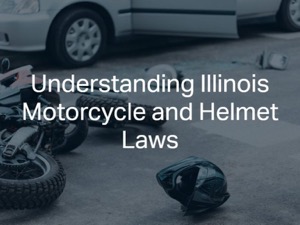 Motorcycles are becoming increasingly popular methods of transportation in and around Chicago. If you or somebody you love is a motorcycle operator, it is important to understand all of the laws associated with these vehicles. If you've been involved in an accident, contact a Chicago motorcycle accident attorney as soon as possible. The safe operation of a motorcycle is incredibly important, as any accident involving a traditional passenger vehicle and a motorcycle can result in severe injuries for the motorcyclist and others.
Illinois Motorcycle Accident Statistics
According to the Illinois Department of Transportation, there were 2,266 motorcyclists injured during the latest reporting year of data across the state. The DOT states that 811 of these injuries were considered catastrophic and that 119 motorcyclists lost their lives. The data presented by the DOT shows that motorcyclists are particularly vulnerable in accidents with traditional passenger vehicles. In all of the motorcycle versus vehicle incidents during the latest year of data, only two non-motorcyclists were killed.
Data provided by the National Highway Traffic Safety Administration (NHTSA) states that motorcyclists are 39 times more likely to sustain fatal injuries in an accident when compared to the occupants of traditional passenger vehicles.
When looking further into the data provided by the state of Illinois, we can see that more motorcyclists are injured in urban areas than in rural areas. This indicates that motorcyclists are more vulnerable in areas where traffic is heavier. Indeed, motorcyclists face more risks in heavy and stop-and-go traffic.
Unfortunately, motorcyclists regularly sustain severe injuries in these crashes. It is not uncommon for a motorcyclist to sustain the following injuries:
Broken and dislocated bones
Severe lacerations or road rash
Amputations or crush injuries
Internal organ damage
Internal bleeding
Severe sprains or strains
2020 Motorcycle Laws in Illinois
Motorcycles are considered vehicles under Illinois state law, and a motorcyclist must abide by the exact same traffic laws as any other vehicle operator in the state. According to data available from the Illinois Secretary of State, there are approximately 300,000 licensed motorcycles in Illinois as of 2020. This number increases every year.
A motorcycle operator is required to obtain a motorcycle classification on their driver's license in order to operate these vehicles. They must pass a separate motorcycle examination, and drivers ages 16 and 17 must also complete a motorcycle training course approved by the Illinois Department of Transportation. Anybody aged 18 or older who successfully completes the Illinois DOT Motorcycle Rider Education Course is not required to pass a written or driving exam at a DMV facility.
All motorcycles must be registered and have a license plate when they are operated on streets or highways in Illinois. All motorcycle owners in Illinois must obtain the following required minimum insurance on their vehicle:
$25,000 for injuries to or death of one person in one accident
$50,000 for injuries to or death of more than one person in one accident
$20,000 for property damage coverage per accident
It is important to understand that motorcycle insurance policies are separate from the insurance that it driver may have on their personal vehicle. They must have two separate policies if they own and operate a motorcycle and a traditional vehicle.
2020 Helmet Laws in Illinois
Illinois does not require that motorcyclists wear helmets. This is one of four states that make wearing a helmet while riding a motorcycle an option. However, just because motorcyclists are not required to wear helmets in Illinois does not mean they should not be worn at all. On the contrary, helmets have been proven to be particularly effective in preventing open head wounds and traumatic brain injuries in the event an accident occurs. It is important for a motorcyclist to choose a helmet that meets Department of Transportation requirements. All DOT-approved helmets will have the required safety standards found on the inside of the helmet.
Motorcyclists should ensure the helmet fits their head properly and should replace their helmet every three or four years or after any accident that occurs.
What if You Get Into a Motorcycle Crash?
If you or somebody you care about is involved in a motorcycle accident, it is important to take steps to ensure that everybody at the scene receives medical care if necessary. If there are any injuries or damages to vehicles involved, local law enforcement must be contacted. Exchange information with the other driver(s) involved, including their:
Name
Driver's license number
Insurance information
Make, model, and year of their vehicle
Time Limit to File an Insurance Claim
If you are injured in a motorcycle crash, you should report the incident to your insurance carrier as soon as possible. Delaying reporting these claims could result in your insurance claim being denied by the at-fault party's insurance carrier. If it is necessary to file a personal injury lawsuit to recover the compensation you need, please understand that Illinois has a two-year statute of limitations in place for these cases. This means that a motorcycle accident victim has a two-year window with which to file a claim against an alleged negligent party or they will lose the ability to recover any compensation for their losses.
Types of Compensation Available in Motorcycle Accident Cases
If you or somebody you love has been injured in a motorcycle crash caused by the negligence of another person, there may be various types of compensation available for your claim. This can include both economic and non-economic compensation, such as the following:
Full coverage of medical bills related to the motorcycle crash
Lost income if a victim cannot work
General household out-of-pocket expenses caused by the crash
Pain and suffering damages
Loss of personal enjoyment damages
Property damage expenses
Possible punitive damages against a grossly negligent party
The total amount of compensation available for these cases will vary depending on the circumstances related to each particular situation. There is no set amount awarded in a Chicago motorcycle accident case. Factors that could affect compensation totals include the severity of the injuries, whether a victim is able to work while they recover, whether a victim is disabled, pain and suffering involved, and more.