Dog Bite
Chicago Dog Bite Lawyer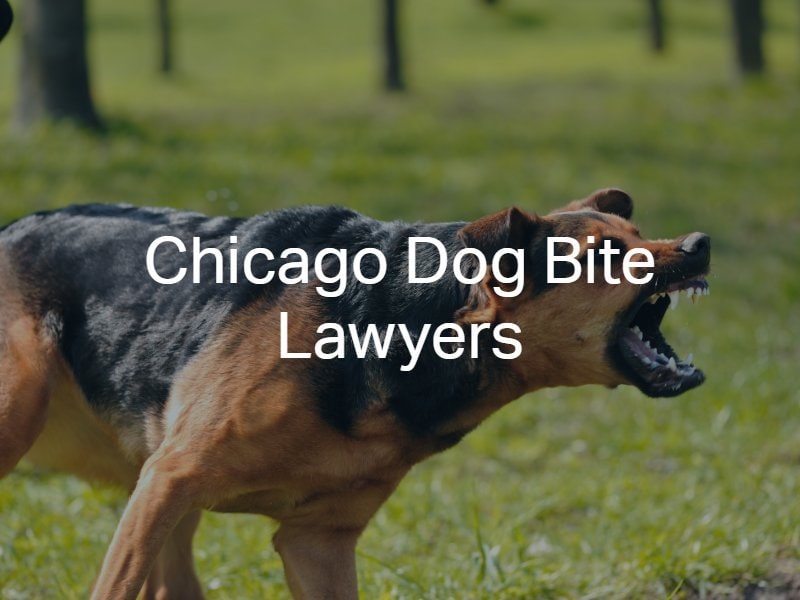 The last thing that most people expect when they are around a dog is that they will be injured. However, dog bite injuries occur all the time, and they can lead to severe pain and suffering for victims. At Seidman, Margulis & Fairman, LLP, we are ready to help if you or a loved one need a Chicago dog bite injury attorney. Our team will investigate your claim and work to secure any compensation you are entitled to.
Why Choose Seidman, Margulis & Fairman, LLP For Your Case?
After sustaining a dog bite injury, you need an attorney with vast experience in personal injury cases in Chicago. At Seidman, Margulis & Fairman, LLP, we are ready to step in and help.
Our Chicago dog bite lawyers have more than 100 years of combined legal experience helping clients with all types of personal injury cases, including dog bite incidents.
We have a reputation for success and have secured hundreds of millions of dollars in total compensation for clients.
We take Chicago dog bite injuries on a contingency fee basis, which means our clients only pay legal fees after we secured the compensation they are entitled to.
Chicago Dog Bite Resources & FAQs What Are The Benefits of Hiring a Dog Bite Lawyer in Chicago?
An attorney is often necessary for a Chicago dog bite case so they can:
Conduct a thorough investigation into the incident by obtaining all evidence related to the dog bite.
Ensure that the dog bite victim receives proper medical care and that their total losses are calculated.
Negotiate with all parties involved to recover fair compensation for their client.
Dog Bite Incidents Can Lead To Severe Injuries
According to data provided by the Canine Journal, we see that there are around 4.5 million dog bite incidents each year in the US. While not all of these require significant medical care, the Centers for Disease Control and Prevention (CDC) says that approximately 20% of all dog bite cases require treatment at the hospital.
Dogs have powerful jaws that can lead to significant injuries. It is not uncommon for our Chicago dog bite injury attorneys to help clients who have sustained the following:
Extensive soft tissue damage
Severe lacerations or puncture wounds
Vein or artery damage
Damage to tendons, ligaments, and muscles
Possible amputations of fingers
Is Illinois a Strict Liability State?
Illinois is considered a strict liability state when it comes to dog bite injuries. This means that a dog's owner can be held liable for any damages caused by a dog bite, even if the dog has never bitten anybody before or shown aggressive tendencies. The dog owner does not have to be negligent in order for a victim to receive compensation for these cases.
Illinois Animal Control Act
Dog bite injuries are handled differently state-by-state. In some areas in the country, a dog's owner will not be held liable for a bite incident unless the dog has previously been somebody or shown a propensity for aggression. However, other states operate under a strict liability dog bite system which means that a dog's owner can be held liable for any injuries caused by their dog biting somebody, regardless of whether or not they had bitten anybody before.
When we look at the Illinois Animal Control Act, we can see that Illinois has erased the "one free bite" law that did exist in the state. Previously, dog owners could not be held liable for a bite injury if they were not aware of their animal's propensity for biting.
Now, the law specifically says:
"If a dog or other animal, without provocation, attacks or injures any person who is peaceably conducting himself in any place where he may lawfully be, the owner of such dog or other animal is liable in damages to such person for the full amount of the injury sustained."
This law moves Illinois into the "strict liability" dog bite arena. A dog bite injury victim will only need to show the following three elements in order to recover compensation for these incidents:
That the dog attacked, attempted to attack, or otherwise caused an injury.

That the injured individual had a lawful right to be in the place where the incident occurred.

That the injured individual did not provoke the dog.
The law in Illinois allows liability to be attached to either the owner of the dog or the person who was actually in control of the dog at the time the incident occurred. For example, if the dog owner left the dog with a sitter while they went out of town, and the sitter willfully assumed control of the dog, then both the dog owner and the dog sitter could be held liable under Illinois law.
Dangerous Dog Ordinances in Illinois
There are various laws related to dangerous dogs throughout Illinois, and many municipalities throughout Illinois, including Chicago, have dangerous dog ordinances. The goal of all of these laws, either at the state or municipal level, is to keep dangerous pets away from the public and prevent severe injuries.
Illinois law says that a dangerous dog is defined as "any individual dog anywhere other than upon the property of the owner or custodian of the dog and unmuzzled, unleashed, or unattended by its owner or custodian that behaves in a manner that a reasonable person would believe poses a serious and unjustified imminent threat of serious physical injury or death to a person or a companion animal…"
When we look directly at Chicago Municipal Code § 7-12-050, we can see that a dangerous animal is defined as one that:
Bites, inflicts injury on, kills, or otherwise attacks a human or another animal without provocation on public or private property, or

Chases or approaches a person in "an apparent attitude of attack" more than one time without provocation, or

Has been trained for the purpose of serving as a guard dog or for fighting
It will ultimately be up to animal control authorities in Chicago to decide whether or not the dog meets these criteria. If a dog attack occurs, the dog could be euthanized if the victim was killed or seriously injured, or the owner could be required to get a dangerous animal license and obtain liability insurance.
A violation of this Chicago law could lead to a fine of up to $1,000 and the impoundment of the dog.
Various other municipalities in the state of Illinois have enacted specific "dangerous dog" legislation that specifically targets certain breeds of dogs.
How To File a Report After a Dog Bite Accident in Illinois?
If you or somebody you care about is bitten and injured by a dog, your first step needs to be to seek immediate medical care. If the injury is a clear emergency, you need to call 911 and let EMS and police come to the scene. If the incident is not immediately life-threatening, you should have a friend or family member take you to an emergency clinic right away.
There are some steps that you can take to help ensure that you receive the compensation you are entitled to after a dog bite incident. This includes:
Reporting the incident

. If a dog bite results in anything more than minor injuries, or if the dog's owner becomes hostile, the police need to come to the scene of the incident. The police will make an initial determination about whether or not the dog should be impounded. The police will also file a report about the incident, and this report will contain important information about the dog's owner, their insurance information, and information for contacting animal control.

Taking photographs

. It is important to get photographs of just about everything you see in the aftermath of a dog bite incident. This includes any injuries inflicted by the dog bite. Additionally, if you can get pictures of the dog and the location where the incident occurred, this will be beneficial. If you are able to do so, get a photograph of the dog's owner or the person who has control of the dog at the time of the incident occurred.

Getting information about the dog's owner

. You should try to get as much information about the dog's owner as possible. Unfortunately, after many dog bite incidents, the owner or controller of the dog will leave the scene right away. However, if they stay, you should try to get their name, address, and phone number. Additionally, ask for the dog's name, breed, and age. You should ask the dog owner which veterinarian dog goes to so you can contact the vet for vaccine information.

Calling animal control

. After you have received medical care and the initial emergency is over with, you should call your local animal control phone number to report the dog bite. If you go to your Internet search bar and type in your city or county with the words "animal control," you should be able to get the correct phone number to call as well as information about how to make a report.

The insurance carriers

. In most situations, the homeowner's insurance or renter's insurance of the dog owner will be responsible for covering your expenses. Any dog bite victims need to contact the appropriate insurance carrier to file a claim. However, do not rush for a quick settlement, particularly until after you have reached what doctors consider maximum medical improvement. If you settle a claim before you have fully healed from your injuries, you may not be able to receive total compensation for all your expenses.
Dog Bite Statistics
There have been various comprehensive studies related to dog bite injuries statistics over the last few decades, including a study from the US Centers for Disease Control and Prevention (CDC). Data from the CDC has indicated that around $4.5 million bites occur each year in this country. Additional data suggests that approximately 800,000 of these individuals require medical care in emergency facilities as a result of a dog bite severity.
There are no hard and fast statistics related to which cities are the most dangerous when it comes to dog bites across the country. However, The United States Postal Service (USPS) does release an annual list of which cities are the most dangerous for their employees when it comes to dog bite incidents. During the latest reporting year, more than 5,800 total US Postal service workers were bitten by dogs on the job. The top five cities for these bite incidents were:
Houston
Los Angeles
Chicago
Cleveland
Dallas
Data suggests that there are approximately 48 million US households with dogs. In fact, most of these households have more than one dog. The reality is that, with so many dogs mingling with humans, dog bites are inevitable. The vast majority of dog bites are not very severe, but that does not mean they should be taken any less seriously. Even relatively minor injuries can result in major medical expenses.
How Much Compensation Is Available For A Dog Bite Case?
If you or somebody you love has sustained injuries caused by a dog bite, you may need to seek legal assistance. At Seidman, Margulis & Fairman, LLP, we want you to know that there are various types of compensation that may be available, including:
Coverage of all medical bills related to the dog bite
Lost wages if you are unable to work due to the injuries
Physical therapy or rehabilitation costs
Pain and suffering damages
Loss of personal enjoyment damages
Possible punitive damages in cases of gross negligence or intentional conduct
When Can Victims File Claims Against Dog Owners?
An insurance claim or a personal injury lawsuit should be filed as soon as possible after a dog bite injury occurs. The Illinois statute of limitations for personal injury claims is two years from the date an injury occurs. This means that dog bite injury victims in Chicago have a two-year window with which to file a civil lawsuit against a dog owner to recover compensation for their losses. Failing to file a claim in this time frame will result in the victim losing the ability to recover any compensation at all.
However, please do not wait two years to file a claim for a Chicago dog bite case. Most of these claims are resolved through settlements with insurance carriers, and the insurance carrier will likely have shorter filing deadlines in place. A delayed claim will give the insurance carrier more reasons to deny or delay the case.
Proving Negligence After a Dog Bite in Chicago
When we turn to 510 ILCS 5/16 in Illinois' code of laws, we can see that this statute covers how the victim can prove that a dog owner is liable for any damage their pet has caused. According to the law, the injured person must be able to show that:
The dog attempted to attack or injure them
They (the injury victim) had a lawful right to be in the place they were at the time the attack occurred
The dog was not provoked in any way
Actually proving the elements of a dog bite injury case can become complicated. These incidents often initially begin with "he said, she said" statements. However, a Chicago dog bite lawyer may be able to uncover additional evidence to prove liability, including photo or video surveillance and statements from others who saw what happened.
Justice for Buddy Act
The Justice for Buddy Act involves the case of a little 10-year-old Yorkie named Buddy. In the incident that precipitated the law's passage, Buddy and his owner were at Hanover Park when Buddy was viciously attacked by another dog. Unfortunately, Buddy was ultimately killed. The dog that attacked and killed Buddy was not muzzled, even though it was supposed to be. Worse, the same dog was seen roaming that area freely the week before Buddy was killed.
The goal of this law, which was passed by the Illinois legislature and went into effect in 2019, is to restrict the activities of dangerous dogs and their owners. The law created a "reckless dog owner" definition in the law. An individual would be labeled as a reckless dog owner if their dog is deemed dangerous for killing another dog or is found running at large two times within a 12-month period.
If a person is found to be a reckless dog owner, any dog on their property will be forfeited to a licensed shelter or rescue facility where efforts will be made to re-home the dogs if they are considered adoptable. A reckless dog owner will also be prohibited from owning other dogs for up to three years.
Contact Our Dog Bite Lawyers Today

The total amount of compensation awarded in these cases will vary depending on the specific factors related to each incident. When you need a Chicago dog bite injury attorney, you can contact us for a free consultation of your case by clicking here or calling (312) 781-1977.