Mesothelioma
Chicago Mesothelioma Lawyer
If you or someone you love has been injured as a result of exposure to asbestos, you may be entitled to financial compensation to pay for lost wages, medical expenses, and other damages. As highly experienced Chicago asbestos lawyers, we work with clients throughout Illinois to pursue substantial compensation.
Why Choose Our Lawyers?
If you have developed mesothelioma as a result of exposure in the workplace, then you need to turn to an attorney who has extensive experience handling these types of claims. At Seidman, Margulis & Fairman, LLP, our team is ready to step in and help.
We focus exclusively on personal injury law, including injuries in the workplace caused by exposure to hazardous elements.
We are committed to providing direct and honest communication to every client. Our clients will always have access to their attorney to ask questions or raise concerns.
Our team will not hesitate to take your case to trial if that is what it takes to help recover maximum compensation for your losses.
We understand what it takes to fully investigate mesothelioma, and we will be by your side from the moment we take your claim until the moment you receive the compensation you are entitled to.
Our team handles asbestos and mesothelioma cases in Chicago on a contingency fee basis. This means that our clients will not have to worry about paying any legal fees until after we recover the compensation they are entitled to. If we do not win the case, our clients will not pay any legal fees at all.
How Does Mesothelioma Develop?
Malignant mesothelioma is a type of cancer that occurs in the thin layer of tissue surrounding most of the internal organs, called the mesothelium (Mayo Clinic). This is a particularly aggressive type of cancer and often leads to extensive pain and suffering and even death for those who are diagnosed. There are treatments for mesothelioma, but for many people who contract this cancer, a cure is not possible.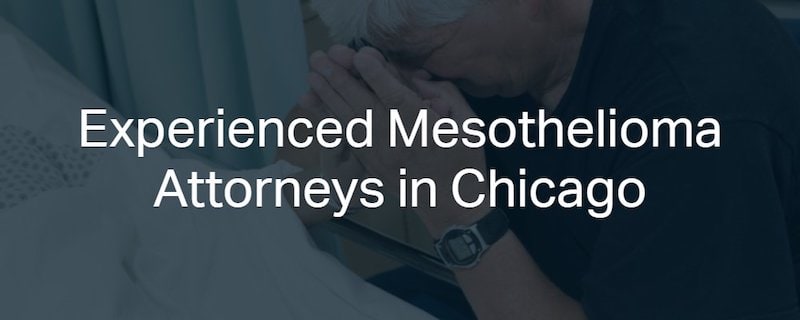 Asbestos exposure is the main cause of mesothelioma. Asbestos was used heavily in the United States in the late 1800s and throughout the 1900s, mainly as insulation in various industries and in residential households. Even though asbestos is naturally found in soil and rocks, heavy concentrations of asbestos fibers can lead to consequential long-term health effects.
When the fibers of asbestos are ingested or inhaled, they can embed themselves into lung tissue or in other organs and cause cellular damage that leads to mesothelioma.
What is Mesothelioma?
Mesothelioma is a dangerous form of cancer that has been directly linked to exposure to asbestos. Manufacturers of a wide range of products have tragically exposed workers and consumers to the serious risk of mesothelioma and lung disease, and the courts have widely recognized the negligence involved in these exposure cases.
Types of Mesothelioma
Mesothelioma is the type of cancer of the mesothelium, the protective layer around our organs. There are various types of mesothelioma that we want you to be aware of.
Pleural mesothelioma
Pleural mesothelioma is a type of cancer in the lungs that starts in the chest cavity, specifically in the pleura (the lining around the chest cavity). This type of mesothelioma accounts for the majority of mesothelioma cases. The most common symptoms of pleural mesothelioma include:
Difficulty swallowing
Persistent chest pain
Persistent dry cough
Shortness of breath
Fatigue
There are also various treatments that could help peritoneal mesothelioma, including chemotherapy, radiation, and surgery.
Pericardial Mesothelioma
Pericardial mesothelioma is cancer in the heart region that starts in the pericardium (the exterior lighting around the heart). Fortunately, this type of mesothelioma accounts for only around 1% of all mesothelioma cases. The most common symptoms associated with pericardial mesothelioma include the following:
Chest pain
Difficulty breathing
Fatigue
Coughing
Irregular heartbeat
Fever
The treatments for pericardial mesothelioma include radiation chemotherapy, but surgery is often seen as too risky due to the proximity to the heart.
Mesothelioma Facts & Statistics
Mesothelioma is scary, and we hope you and your family never have to deal with a diagnosis of this aggressive cancer. However, according to information available from cancer.net, we can see that around 3,000 individuals are diagnosed with mesothelioma each year across the US.
Mesothelioma is more common in white and Hispanic men than in Asian Americans or African Americans
The average age for a pleural mesothelioma diagnosis is 72
Mesothelioma occurs four times more often in men than in women
If that seems like a late age for a cancer diagnosis, then we need to point out that it is not uncommon for individuals to only suffer from symptoms of mesothelioma decades after asbestos exposure.
When we examine the five-year survival rate for mesothelioma (how likely individuals are to survive five years after the cancer is found), we see a low figure. Only 10% of individuals survive five years after receiving a mesothelioma diagnosis. If this type of cancer is found early and is localized to a specific area of the body, the five-year survival rate increases to 18%.
Who is Most At-Risk of a Mesothelioma Diagnosis?
Individuals who worked around or lived near heavy concentrations of asbestos are most at risk of developing mesothelioma. Particularly, those who worked in occupations with high asbestos exposure should pay close attention to any possible signs or symptoms that could indicate a mesothelioma diagnosis. This includes:
Firefighters
Construction workers
Power plant workers
Industrial workers
Shipyard workers
Vehicle manufacturers
Military personnel
Plumbers
Insulation manufacturers
Others who might be at risk for asbestos exposure include those who have lived in homes or apartments that contain asbestos insulation. Even though asbestos is banned in residential homes, homes that were built before this ban could still pose a major threat, particularly during remodeling or renovation.
Additionally, we want to point out that there has been documentation of individuals contracting mesothelioma as a result of secondhand exposure to asbestos. Usually, this occurred when an individual working around heavy concentrations of asbestos brought home traces of asbestos on their clothing, subsequently exposing loved ones.
If you have been diagnosed with mesothelioma, then you have undoubtedly been exposed to asbestos in high concentrations in the past. We encourage you to reach out to a skilled attorney who can fully examine your situation and help you determine the best steps moving forward. Only a lawyer with extensive experience handling mesothelioma will be able to properly guide you through this entire process.
Compensation Available For Victims
Victims who have been diagnosed with mesothelioma have been awarded significant settlements and jury verdicts throughout this country and here in Illinois. There is no set amount of money paid to mesothelioma victims, and the facts and circumstances surrounding every case are different. Mesothelioma victims and their families may be entitled to compensation for damages that include:
Coverage of all medical expenses related to the diagnosis
Compensation for any needed lab testing
Coverage of any surgery needed
Compensation for lost earning capacity
Physical impairment and disfigurement damages
Loss of spousal support and companionship
Loss of consortium
Pain and suffering damages
End of life expenses
Court costs and legal fees
Possible punitive damages
At Seidman, Margulis & Fairman, LLP, our team will work diligently to recover total compensation for your losses. We will partner with trusted medical and economic experts who can evaluate your case and help properly calculate total expected lifetime losses.
Why it Makes Sense to Have an Attorney for a Mesothelioma Case
Having a Chicago mesothelioma attorney by your side can make a significant difference when it comes to securing compensation for your illness. A skilled attorney can conduct a complete investigation into your illness to determine how you contracted mesothelioma. Because the signs and symptoms of mesothelioma often do not develop for decades after initial asbestos exposure, pinpointing the cause of this cancer can be challenging. You need to have an attorney who will work with trusted medical and investigative experts to look into your past to determine how your illness occurred.
In addition to advising you on your rights and determining what type of compensation you are entitled to, an attorney will handle all communication with other parties involved. This will include makers of asbestos, former employers, and any other asbestos suppliers who may be liable in your situation. If necessary, an attorney will fully prepare your case for trial to ensure that your rights are upheld.
Contact a Mesothelioma Lawyer in Chicago Today
If you have been diagnosed with mesothelioma or other illness as a result of exposure to a hazardous substance, you should consult with a Chicago personal injury attorney before settling with a former employer or insurance company. Call our Chicago asbestos lawyers at (312) 781-1977 or contact us online for a free consultation to discuss your case.