Premises Liability
Chicago Premises Liability Attorney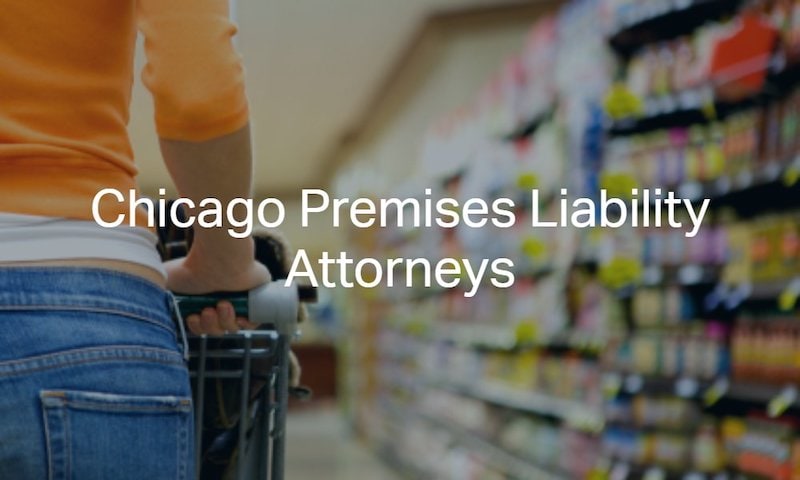 The last thing you should have to worry about is that you will be injured due to the negligent actions of a property owner or their agents. However, serious injuries occur all the time when property owners fail in their duty to keep others safe.
At Seidman, Margulis & Fairman, LLP, we are ready to help if you or a loved one need a Chicago premises liability attorney. We will investigate your case and work to secure any compensation you are entitled to. To schedule a free consultation, contact us at (312) 781-1977
Resources & FAQs About Premises Liability Lawsuits in Illinois Why Choose Our Chicago Premises Liability Lawyers?
When you have been injured due to the negligence of a property owner, you need a premises liability lawyer with experience handling this exact kind of case. Seidman, Margulis & Fairman, LLP is here to help.
We focus on personal injury law and only on personal injury law. This gives our team of Chicago personal injury lawyers a high level of specialization and unique insights into the litigation process of premises liability claims.
We are thorough in our preparation and in our unwavering pursuit of pursuing maximum compensation for each client.
We will not hesitate to take a case to trial if it is necessary to secure the compensation our clients are entitled to.
Do You Need A Chicago Premises Liability Attorney For This Case?
Premises liability cases can become incredibly complex. Unfortunately, these cases often put an injured victim up against major companies and aggressive insurance carriers. A skilled Chicago premises liability lawyer will have the resources available to:
Obtain all evidence related to the incident. This can include surveillance footage of what happened, photographic evidence, eyewitness statements, accident reports, and more.
Ensure that the injury victim is evaluated by a trusted medical professional who can fully assess their injuries and help accurately calculate their total losses.
Negotiate with every party involved, including companies and insurance carriers, to secure maximum compensation for the claim.
Types of Premises Liability Claims in Illinois
Property owners and their agents (managers, employees, contractors, etc.) have a duty to ensure that their premises are safe for everybody who is allowed to enter. Unfortunately, there are times when the negligence of the property owner can lead to the following:
Inadequate property maintenance
Slip and fall hazards
Uncontrolled animals
Inadequate or negligent security
Unsafe pool or hot tubs areas
Retail store liability
Restaurant liability
Attractive nuisance issues (child injury cases)
What Are Common Premises Liability Injuries?
There is a wide range of injuries that can occur when property owners are negligent in their duties to keep their licensees and invitees safe. At Seidman, Margulis & Fairman, LLP, we regularly help clients who have sustained the following:
Broken or dislocated bones
Puncture wounds, lacerations, amputations
Open head wounds
Concussions
Neck and back injuries
Soft tissue injuries
Sprains and strains
Drowning or near-drownings
…and more
This is certainly not a complete list of injuries that can occur due to a property owner's negligence, and you should speak to our experienced premises liability lawyers in Chicago about the specifics of your case.
4 Elements Necessary To Prove A Premises Liability Case
In order for a premises liability claim to be successful, there are generally four elements that a plaintiff (or their attorney) will need to prove.
Duty. It needs to be shown that the property owner had a duty of care to protect those on their property. The duty of care will look different depending on what type of property the injury occurred on (commercial or residential) and who was harmed (guests or trespassers). Generally, all property owners owe some kind of duty of care to provide a reasonably safe environment.
Breach. It needs to be shown that the property owner breached their duty of care in some way. For a grocery store, this could include a failure of employees to put up a "wet floor" sign after cleaning up a spill.
Causation. It will need to be shown that the breach of duty directly caused the plaintiff's injuries. Following the example above, if a store patron walked over the area that was recently mopped and had no warning that the floor was wet, they could slip and fall.
Damages. Finally, it must be shown that the plaintiff suffered some sort of loss due to the breach of duty. This could include medical bills, lost wages, out-of-pocket expenses, pain and suffering damages, and more.
What Types of Damages Are Available From a Premises Liability Case?
Victims who have been injured due to the negligent actions of a property owner often ask us how much they will receive in compensation. This can be difficult to answer upfront, as each case is different.
The total amount of compensation awarded in a premises liability claim will depend on the various factors related to a client's particular case. However, our Chicago premises liability lawyers regularly help clients obtain the following:
Coverage of any medical expenses they incur
Lost income if they cannot work while recovering
Costs of any in-home care or out-of-pocket expenses
Pain and suffering damages
Possible punitive damages against a negligent property owner
What Is The Time Limit To File A Premises Liability Claim in Illinois?
Illinois set time limits, called statutes of limitation, for how long victims have to file civil claims against negligent parties. The statute of limitations for premises liability claims in Illinois is two years from the date an injury occurs.
This means that victims must file a claim against an alleged negligent party within two years in order to recover compensation. Failing to file a claim within this time frame will likely result in a victim being unable to receive compensation for their losses.
Let Our Chicago Premises Liability Team Get You Through This

If you or somebody you love has been injured due to the negligent or careless actions of a property owner or their agents, seek legal assistance as soon as possible. At Seidman, Margulis & Fairman, LLP, our skilled and experienced team of premises liability lawyers are ready to investigate every aspect of your claim so we can secure the compensation and closure you deserve.
We take all premises liability cases on a contingency fee basis, which means our clients only owe us legal fees after we secure the compensation they are entitled to. When you need a Chicago premises liability attorney, you can contact us for a free consultation of your case by clicking here or calling (312) 781-1977.