Product Liability
Chicago Product Liability Lawyer
Obtaining compensation in a defective product case requires a product liability lawyer who knows what he or she is doing. Steve Seidman has practiced for 25 years, with extensive experience and success in this complex litigation. He has represented clients throughout the Chicago area and northeastern Illinois.
If you have been injured in an accident and believe that a design defect or product failure is to blame, contact the product liability attorneys of Seidman Margulis & Fairman, LLP, for a free claim evaluation. We will give you an honest assessment of the viability of the case and make every attempt to win compensation for you, through negotiation or trial litigation.
What Constitutes A Product Defect?
Our firm represents personal injury victims throughout the Greater Chicago, Illinois area, including the communities of Cook, Kane, DuPage, Lake and Will counties. We have obtained many significant verdicts and settlements in product liability cases:
A worker who lost a portion of his hand in a machine that activated at the wrong time
Another worker injured by a die press
Defective products often result in catastrophic injuries, including eye injury, lost limbs, burns, toxic exposure, broken bones, paralysis, and brain injury. Recovery and rehabilitation may cost tens of thousands of dollars, and victims may be unable to return to work.
Product liability can apply to a design defect (an over-torqued power tool), manufacturing defect (light bulbs that separate when screwing or unscrewing), product failure (a safety switch that stops working), or insufficient labeling (lack of an explosion warning on a can of spray lubricant). It can be a machine, a tool, a household chemical, safety equipment, vehicle design — in short, any product that harms the user through normal use.
---
We represent U.S. military servicemembers who have experienced tinnitus, hearing damage or loss due to use of defective 3M earplugs.
---
Our Lawyers Understand The Manufacturing Process
In seeking compensation for a defective product injury, we attempt to discover as much as possible about the design and manufacturing process, and whether the company had knowledge of potential dangers or adequately tested the product before taking it to market. We will petition the court for records and evidence. For instance, most autos now have a "black box" similar to commercial airplanes that records data about a crash. We assure that the chain of custody of any evidence is maintained to support the case.
Contact a Chicago Product Liability Attorney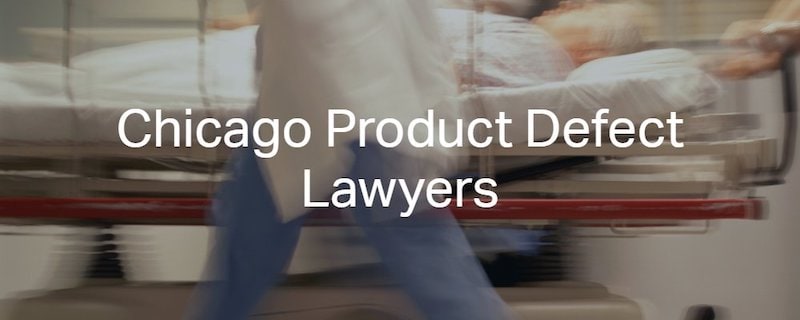 Many cases are settled out of court — especially when we have thoroughly documented the client's case for liability — but we will not hesitate to go to trial to get the full compensation our clients deserve for their severe injuries. Contact our Chicago product liability attorneys today. Our Chicago personal injury lawyers offer a free consultation to evaluate your claim, including evening and weekend appointments, and we can come to your home or hospital.