Child Injury
Chicago Child Injury Attorney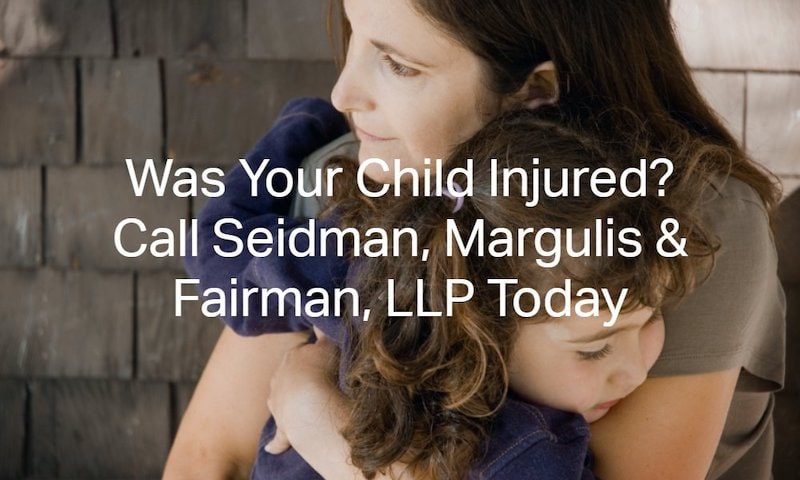 No parent wants to see their child in pain due to an injury. However, despite a parent's best efforts to keep their child safe, there are times when the negligent or intentional actions of other people cause serious injuries to their child. At Seidman, Margulis & Fairman, LLP, we are here to help. Our Chicago child injury attorneys will investigate every aspect of what happened in order to secure the compensation you and your child need to move forward.
Why Choose Seidman, Margulis & Fairman, LLP?
When dealing with an issue as important as an injury to your child, seek legal assistance from a team with vast experience handling personal injury claims in Chicago. Seidman, Margulis & Fairman, LLP is ready to help.
We are committed to providing honest and direct communication with every client. You will always have access to your attorney, and we will not put you off on a paralegal or junior assistant.
We have a reputation for success and have secured hundreds of millions of dollars in total compensation for our clients through favorable settlements or verdicts.
We take all Chicago child injury cases on a contingency fee basis. This means that parents and guardians face no upfront or out-of-pocket costs related to their case. Clients only pay us legal fees after we secure the compensation they are entitled to.
Chicago Child Injuries Resources & FAQs What Will An Attorney Do To Help?
Chicago child injury cases can become incredibly complex, particularly when it comes to determining liability. A skilled child injury attorney will have the legal knowledge and resources to:
Obtain all evidence related to the case, including any photographic or video evidence related to the incident, accident reports, eyewitness statements, and more.
Work with experienced medical professionals to ensure your child is cared for.
Employ assistance from economic experts to properly calculate the expected costs of your child's injuries.
Negotiate with all parties involved to reach a fair settlement or prepare to take the case to trial to recover maximum compensation.
Understanding How Child Injuries Occur
According to the Illinois Department of Public Health, injuries are the leading cause of death of children up to five years of age in the state. During the most recent reporting year, more than 111,000 child injuries were treated in hospitals in Illinois. According to the National Institutes of Health, the most common causes of child injuries include:
Falls off of or from the following:
Furniture
Steps or stairs
Playground equipment
Buildings
Slips, trips, and stumbles
From one level to another
Fires/burns/electrocutions
Poisoning and internal injuries from ingestion
Assault or abuse
Dog bites
Struck by an object
What Are Attractive Nuisance Laws?
Property owners in Illinois have a legal duty to care for their property, which means taking certain measures to ensure the children who come onto their property are safe (even if the child is trespassing). The doctrine of attractive nuisance refers to potential hazards that may attract children.
This can include pools, hot tubs, trampolines, and playground equipment, as well as debris piles, trenches, sand hills, and more. If property owners failed to secure these hazards or fail to take steps to keep children away from them, they could be held liable for any injuries that occur.
What Kind Of Compensation Is Available If My Child Is Injured?
One of the most common questions we receive early in the case is – How much compensation is available to help my child?
When it comes to child injuries caused by the negligence of another person, there is no set amount of compensation available. Each case is different, and the total damages awarded will vary depending on the particular facts of each situation. At Seidman, Margulis & Fairman, LLP, our Chicago child injury lawyers regularly help families recover the following:
Economic damages. This includes past, current, and future expected medical costs related to the child's injuries. This can also include lost wages and out-of-pocket costs that a parent incurs. In special circumstances, we will also consider lost earnings and loss of future earning potential of the child who has been injured.
Non-economic damages. This will include damages that are not as easy to calculate but are just as real. Victims of child injuries often sustain immense physical and emotional pain and suffering. This can include long term physical pain, emotional distress, loss of enjoyment of life, and more. In order to calculate these damages properly, an attorney will employ assistance from medical and economic experts.
Who Could Be Held Liable For These Injuries?
There are various parties that could be held liable for a child's injury, including other adults who have a duty to care for a child. This can include:
Teachers or other school staff
Recreational staff or coaches
Daycare employees
School bus drivers
Parents of other children
Doctors and nurses (or other health care professionals)
In cases where a child was harmed on another person's property, then the property owner may be held liable through a premises liability claim. If a child is harmed due to a defective product, then a company or manufacturer may also be liable for any injuries that occur.
How Quickly Do These Claims Have To Be Filed?
In general, the statute of limitations (time limit) that victims have to file personal injury claims against a negligent party is two years from the date the injury occurs. This means that parents or guardians must file a claim within this two-year window in order to recover compensation. However, if a child is under 18 when they are injured, and their legal guardians did not pursue a personal injury claim after the incident, then the child will have two years from the date of their 18th birthday to file a claim against the negligent party.
Contact Our Child Injury Attorneys in Chicago Today
If your child has sustained an injury that was caused by another person, company, or entity, you need to seek legal assistance as soon as possible. At Seidman, Margulis & Fairman, LLP, our knowledgeable and experienced team is going to investigate every aspect of your claim so we can secure the compensation you and your child need to move forward from this.
We understand that this is an incredibly difficult time for your family, which is why we want to get started today. When you need a Chicago child injuries attorney, you can contact us for a free consultation of your case by clicking here or calling (312) 781-1977.